With the University of Kentucky's MBA in Healthcare, you'll have the support necessary to further your skills and develop as a leader in the healthcare industry. Designed with you in mind, our program is built for flexibility, helping you navigate healthcare management's unique trials and challenges. As such, the MBA in Healthcare works to ensure you have all the tools you need to succeed.
Join a community of peers from every corner of the academic and professional landscape, and cultivate meaningful relationships to guide and uplift you along your MBA journey.
At the University of Kentucky, students in the MBA in Healthcare program make positive contributions to the healthcare industry and fellow members of their cohort. Our program builds a tight-knit group of individuals who accompany each other on this journey. The ideal candidate is thoughtful and driven with the desire to develop further their leadership skills and the initiative to expand their tool belt on a timeline that best suits them.
For a more detailed understanding of our specific admissions requirements, schedule a 1:1 session with our team. We look forward to answering any questions and guiding you through this process.
---
Connect with Us
Learning that works for you.
At UK, our student's sense of community is paramount, and we believe convenience and connection should coexist. As a member of the MBA in Healthcare program, you can attend classes online, in-person, or a combination, allowing you to tailor your learning experience to your needs.
While courses are taught in a traditional classroom setting, they are simultaneously streamed live. As such, all benefits of the UK's Part-Time MBA program can be accessed and utilized online as they occur in person. This allows you to fully participate in classroom discussions and activities, ensuring you develop connections with faculty and fellow students.
State Authorization and Licensure
If you plan to complete a University of Kentucky online program while living outside of Kentucky, you should check the Out-of-State Students page to determine if the University of Kentucky is authorized to provide this program in your state of residence.
---
Connect with Us
Students in the UK MBA in Healthcare may complete the program over two or three years to better accommodate their individual lives and schedules. With the help of dedicated, empathetic faculty, candidates move through courses designed with them in mind, ensuring they reach their individual goals.
Participants complete five specialized courses in Accounting, Economics, Finance, Marketing, and Health Service and Systems Organization, qualifying them for the UK Graduate Certificate in Improving Healthcare Value, further differentiating them within their field.
Because we understand the unique demands of our candidates' lives and careers, our courses meet just once a week. Students are also given the option of attending courses in-person, online, or through a combination of both, adapting their learning journey to their distinct needs.
---
Connect with Us
The UK MBA in Healthcare prides itself on being a nationally ranked program and offering unmatched value for our candidates. We also understand that every student has a unique set of needs and is on their own timeline. As such, the MBA in Healthcare can be completed over a two or three-year period to fit each student's individual requirements better.
| Two Year Plan of Study (9 credit hours per semester) | Kentucky Resident | Distance Learning | Non-Resident |
| --- | --- | --- | --- |
| UK Professional MBA for Leaders in Healthcare Tuition (Entire Program) | $36,368 | $36,368 | $43,626 |
| Full-Time Mandatory Fees (Entire Program) | $2,726 | $542 | $2,726 |
| Approximate Total Program Cost | $39,094 | $36,910 | $46,352 |
| Three Year Plan of Study (6 credit hours per semester) | Kentucky Resident | Distance Learning | Non-Resident |
| --- | --- | --- | --- |
| UK Professional MBA for Leaders in Healthcare Tuition (Entire Program) | $36,390 | $36,390 | $43,645 |
| Full-Time Mandatory Fees (Entire Program) | $2,232 | $558 | $2,232 |
| Approximate Total Program Cost | $38,622 | $36,948 | $45,877 |
See University of Kentucky Tuition and Fees Page UK Tuition and Fees Page.
Financial Assistance
Refunds
Students can find tuition refund policies, deadlines, amounts, and other important information on the Student Account Services website.
Items to Note
To reserve your spot in the program a non-refundable $500 deposit is required and will be applied to the first semester's tuition.
Your tuition will not increase while continuously enrolled, however mandatory fees are subject to change. Please refer to the UK Registrar for the most up to date information on tuition and fees.
If electing our online option, a distance learning fee of $10/credit hour will be applied.
Course materials will cost approximately $2,500 over the course of the program.
Specifics regarding determination of residency status are available from the UK Registrar's Office Residency Policy.
Any fully online courses will be charged the applicable resident tuition rate regardless of residency status.
---
Connect with Us
Career
The Graham Office of Career Management offers comprehensive support and guidance to all graduate students throughout their time at UK and beyond. Your success is our top priority, and a graduate career advisor is always available to assist you personally and professionally. Whether you need guidance on climbing the corporate ladder or advice on pivoting your career entirely, our advisors are dedicated to your betterment.
As you make your way through the UK MBA in Healthcare, our team of faculty and staff will also be available for guidance, advice, and networking assistance, allowing you to make use of their valuable experience in and out of the classroom.
Professional Development
With the support and guidance of our career advisors, you will be provided numerous professional development opportunities to help develop your skills outside the classroom. Employer showcases alumni career panels, and talks from inspiring leaders are some of the invaluable events propelling you along your learning journey.
Each year, candidates are given the opportunity to participate in certification programs, allowing them to further differentiate themselves in the workplace. These include:
Cultural Awareness for Global Business Workshop - This workshop program is designed to provide participants with the knowledge and skills needed to understand, work and flourish in and with cultures other than their own. Whether it be collaborating with peers, managing others, or leading groups, cultural awareness is becoming an increasingly important trait in the workforce.
Project Management Workshop – This workshop program provides participants with working knowledge of Project Management and Agile Management practices. Participants will gain an understanding of what project management is in general, waterfall concepts, agile concepts, terms, tools, and techniques to manage projects effectively.
With the expertise and experience gained through the program, our alumni enjoy successful careers across the globe.
Alumni Career Success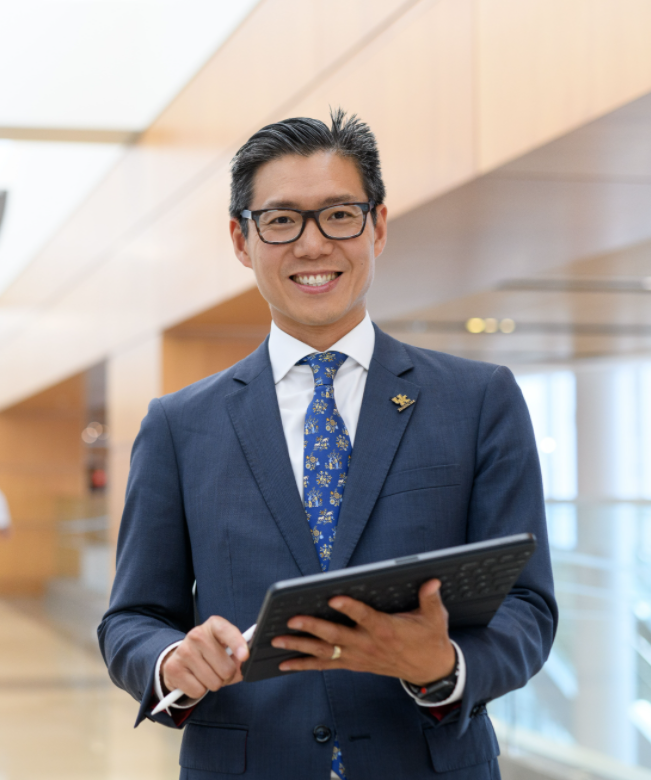 Dr. Phillip Chang
SVP and Chief Medical and Quality Officer
Memorial Hermann Health System
Alumni of the UK MBA go on to wide variety of successful career endeavors around the world.
---
Connect with Us