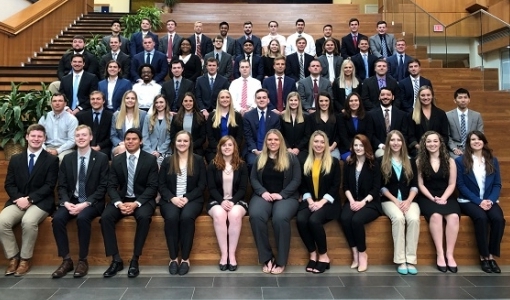 The Gatton College of Business and Economics officially welcomes the 2019/20 One Year MBA cohort to the University of Kentucky. The collective class brings a diverse set of personal and professional experiences along with a high achievement of academic excellence. Some highlights of the full class profile include:
17.4% Minority/International students
31% Non-Resident
Average GMAT of 634 and average GRE of 311
Average GPA of 3.53
Diverse mix of majors: Business (40%), Engineering (27%), Other (33%)
"Our goal was to admit academically and professionally strong applicants who show the greatest potential for successfully completing our program and succeeding in a leadership capacity," said Harvie Wilkinson, MBA Program Director at the Gatton College of Business and Economics. "We looked for applicants with backgrounds that would bring significant value inside and outside of the classroom. We are very excited about the merits of this particular class and look forward to witnessing all of their great accomplishments throughout the year and beyond."
Gatton's nationally ranked, full-time One Year MBA is an immersive, cross-disciplinary, hands-on experience designed for both recent graduates, young professionals and dual degree candidates. The teaching philosophy incorporates several core business processes positioned for both business and non-business students, along with military. The One Year MBA experience includes highly interactive, experiential courses situated in the corporate setting through the built-in internship program called Project Connect. Candidates enrolled in this program can receive several professional certifications while picking up a concentration in Entrepreneurship and New Venture Creation. In addition, graduates and alumni of the UK MBA pursue various managerial, technical and leadership roles during their career trajectory with the help and support of Gatton's in-house career management team called the Graham Office of Career Management. 
Please review this program's Admissions Requirements, MBA Preparatory Courses, GMAT/GRE Waiver Policy and Commitment to Diversity before applying into the program. For additional questions, please contact Christopher Carney, Director of MBA Recruitment at the University of Kentucky's Gatton College of Business and Economics.