The economic impact of the pandemic has many recent (and not-so-recent) graduates considering alternate paths. In fact, a recent study by Handshake showed that 58% of college students nationally are focusing on applying to graduate school or professional certificate programs rather than pursuing jobs or internships.
Since furthering your education is an investment in terms of time and money, it's important to be as informed as possible when making your decision. We asked Nancy Johnson, Associate Dean of International and Graduate Programs at the Gatton College of Business and Economics for her answers to the most common questions potential candidates ask.
Can a business degree or certificate program put in you in a better position to advance your career?
Yes, it can bump up your salary potential, build your professional network, and help you gain relevant work experience. During economic uncertainty, the best thing someone can do is to start retooling their skill set, and our programs can help develop those skills.
How long are your programs?
Most can be completed in as little as one year. A short program means reduced living expenses, a minimum of time out of the labor force, and quick career launch.
What graduate and certificate programs do you offer?
The Gatton College offers several excellent graduate and certificate programs. They are all linked here for your convenience.
What if I don't want to complete a full graduate program?
We have several programs which enable you earn a certificate with fewer credit hours including:
What criteria is used for acceptance?
Good news! Any undergraduate degree will satisfy our admission requirements. Some programs may require a few prerequisite classes to prepare you to be successful in the program. There are a considerable number of students who have non-business backgrounds such as humanities and arts and sciences. We strive to admit academically and professionally strong applicants who show the greatest potential for successfully completing the program.
Are there any scholarships being offered right now?
Yes, there are! Because of the current situation, the Gatton college has had numerous donors contribute one-time Persistence Scholarship opportunities. The scholarships begin at $1,000.
What is the plan for classes beginning this fall due to the pandemic?
The University of Kentucky has created a plan called the University Playbook. Students come first. Our plan is to begin in-person classes on August 17. Safety measures will be in place that include screening, testing, and social distancing, along with mandatory face masks. To follow university updates on the plan for operating in fall or with questions on housing, dining, and other information, please view the University Playbook website.
Applications for 2020 are open until July 24. Visit Gatton.uky.edu/pro for more information.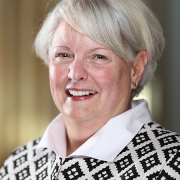 Dr. Nancy Johnson joined the University of Kentucky's Department of Management faculty in 1986 and has served many roles including Associate Dean of Undergraduate Affairs, Associate Dean of International and Director for the Center for Labor Education and Research. She has written extensively on airline industrial relations, fairness as it leads to union joining, and strategic and international human resource issues. Read More