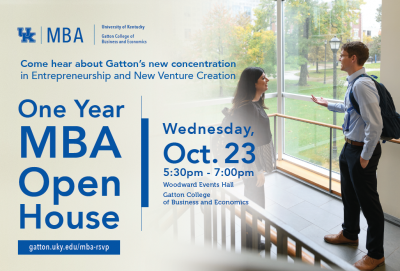 The University of Kentucky MBA program welcomes all students, young professionals and emerging leaders across all academic majors and backgrounds to their One Year MBA Open House event on Wednesday, October 23rd at 5:30 PM to learn more about the full-time, One Year MBA and applicable dual degree programs. Event registration can be found at http://gatton.uky.edu/mba-rsvp. 
Candidates will be able to learn more about the value of the UK MBA program which includes the built-in internship experience called Project Connect, career/alumni outcomes, team competitions, professional certifications, the new Entrepreneurship and New Venture Creation concentration and much more. At the event, prospective candidates will also be to interact with current students, faculty and alumni of the program and learn valuable information about the admissions process, scholarships and how to be a competitive applicant for the upcoming 2020 cohort or future classes.
"We are very pleased to offer this event as an opportunity to help our candidates make an informed decision on the UK MBA program," says Harvie Wilkinson, MBA Program Director. "Our nationally ranked and immersive One Year MBA option incorporates a diverse mix of core business courses, electives, professional workshops and career support to help our candidates become well-rounded and nimble in their professional careers." 
The highlight of the event will be the Alumni Spotlight which will feature successful alumni of the UK MBA program which will include Ben Osei, Associate Brand Manager at Brown-Forman; Yulia Perevozchikova, Enterprise Strategy Consultant at UK Healthcare; Erika Penrose, CSA Consultant at 84.51˚ and Jacob Schlarman, Clinical Project Manager at CTI. Candidates will have the opportunity to hear about their experiences in the UK MBA program and receive valuable career advice. 
"As someone who recently graduated with a bachelor's degree, UK's One Year MBA Program was the perfect option for me," says Yulia Perevozchikova. "The program fosters valuable experiences with tools that I use every day in the workplace and tt also gave me industry experience through Project Connect, which led to a career opportunity after graduation."
For more information, please contact Christopher T. Carney, Director of MBA Recruitment at the Gatton College of Business and Economics. Event registration can be found at http://gatton.uky.edu/mba-rsvp.