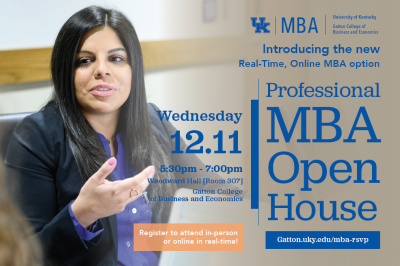 University of Kentucky MBA alumni, executives and current students representing Tempur Sealy International, US Air Force, UK Healthcare and Matrix Design Group lead a stellar panel of speakers at the Professional MBA Open House event on Wednesday, December 11th at 5:30 PM - 7:00 PM at UK's Gatton College of Business and Economics building on campus.
This discussion is hosted by the Gatton College Professional MBA program, as part of Gatton's Professional MBA Open House. This event is open to all working professionals, executives and HR managers in Kentucky (and beyond) who are interested in learning more UK's professional MBA program options which includes the Professional MBA, Professional MBA (For Leaders in Healthcare), Real-Time, Online MBA option and applicable Dual Degree programs. There will be limited seating (in-person and online in real-time). Event registration is required at Gatton.uky.edu/MBA-RSVP.
This professional panel will include Aubrey Warmouth, Associate Brand Manager at Tempur Sealy International; Lt Col Katie Buss, United States Air Force; Dr. Zaki Hassan, Medical Director and Professor of Anesthesiology at UK Healthcare and Wesley Chitwood, Vice President of International Operations at Matrix Design Group. These business leaders will discuss their graduate school experiences in the MBA program at UK's Gatton College, as well as their own experiences navigating today's business climate.
"We are excited to have a diverse lineup of speakers at this event representing both the current student and alumni perspectives," says Harvie Wilkinson, MBA Program Director at Gatton. "We see our Professional MBA program as the premier program in the state of Kentucky and are excited about reaching more qualified candidates inside and outside of Kentucky with our new real-time, online option. For the UK MBA, our major growth areas in 2020 will be in healthcare, entrepreneurship and our online distance learners."
The UK MBA Open House presentation will include valuable information regarding the overall value of the UK MBA, program deliverables and professional certifications, career outcomes and how to be a competitive applicant for the Fall 2020 class (which starts in late-August of next year). In addition, candidates will be able to learn more about the new Entrepreneurship and New Venture Creation concentration. 
The Professional MBA program at the Gatton College of Business and Economics brings together a diverse network of working professionals from various work experiences, companies, and industries such as engineering, law, healthcare, agriculture, transportation, manufacturing, technology, banking/finance, government and military from all over Kentucky and beyond. For more information about the UK MBA, visit gatton.uky.edu/mba for more information, success stories and admissions requirements.