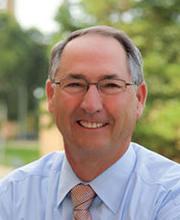 Inducted: 2021
BS in Commerce and Economics, 1969

Rodney H. Mabry is a native of Paducah, proud of his Kentucky heritage, and speaks with passion about the great experience he had at the University of Kentucky. During his tenure as President of The University of Texas at Tyler (UT Tyler), enrollment more than tripled, more than $75 million was raised philanthropically and combined with $200 million in requested public funds and University funds to add 22 major buildings and venues to the campus. Three satellite campuses, two new colleges, and new academic programs—especially three doctoral programs—were added during his tenure, ultimately enabling UT Tyler to be reclassified as a Doctoral/Professional university.

Dr. Mabry earned a B.S. degree in commerce, with a concentration in economics, from the University of Kentucky in 1969. He earned his Ph.D. in economics from the University of North Carolina at Chapel Hill in 1975. He also received a University Management Certificate from Carnegie Mellon University in 1994. He served on the boards of the American Association of State Colleges and Universities, and the Southern Association of Colleges and Schools, a higher education accrediting body. In Texas, he served on the Council of Public University Presidents and Chancellors. In the Tyler community, he served on numerous civic boards, ranging from United Way of Smith County to the East Texas Symphony Orchestra.

He is married to Merle Mabry. They have two grown children and six grandchildren.