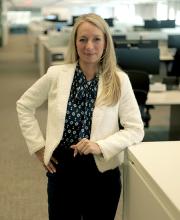 Inducted: 2023
BS in Accounting, 1997

Amanda Lillie earned a bachelor's degree in accounting from the University of Kentucky, which laid the foundation for a successful 25-year career in the financial industry.

After graduation, she worked for IBM, BNP Paribas, and Credit Suisse before joining Citigroup in 2012. During her tenure at Citigroup, Amanda has been the senior chief of staff reporting to the COO of Enterprise, Operations, and Technology, worked with Citigroup's Treasury and Trade Solutions (TTS) technology, and served as chief of staff for many additional parts of the organization.
As director and global head of Citigroup's Client Infrastructure Financial Operations, Amanda liaises with business leaders across all operations, technology, and front office sectors to represent global financials for technology infrastructure planning. In addition, she manages critical business functions, including oversight of strategic optimization programs, stranded cost, and investment spending across all sectors and regions.
A strong advocate for diversity, Amanda holds leadership roles in Citigroup's EO&T Diversity Operating Committee and the Developing Talent program. She has also mentored and volunteered at Citi throughout her career.
Amanda is married and has two daughters. She is involved in the Women's Bond Club and the AYSO West Side Soccer League.