Anthony "Champ" Kelly
Distinguished Young Alumni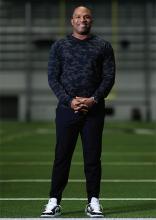 Inducted: 2023
MBA, 2003

Anthony "Champ" Kelly earned a bachelor's degree in computer science and an MBA from the University of Kentucky. He currently is the assistant general manager for the National Football League's Las Vegas Raiders. Kelly also is the founder and president of the non-profit Heart Power Inc.
Kelly, a four-year UK football letterman, played professional indoor football for the Lexington Horsemen while working as a software/quality engineer at IBM from 2002-05 and then Nurses Registry and Home Health. During this same time, Kelly served as offensive coordinator for Lexington Christian Academy's football team.
At the end of his playing career with the Lexington Horsemen, Kelly became the team's general manager before transitioning to work with the player personnel for the Denver Broncos and Chicago Bears. In these roles, Kelly began integrating advanced technology systems into scouting and player personnel. He joined the Raiders in 2022.
Kelly and his wife, Stephanie, created Heart Power Inc. in 2010 to support youth and their families searching for positive, encouraging influences in their lives. The organization holds "C.H.A.M.P. Camp" in Florida, Alabama, Colorado, and Illinois to instill CHAMP core values of Character, Heart, Attitude, Motivation, and Pride through football instruction and guest speakers.