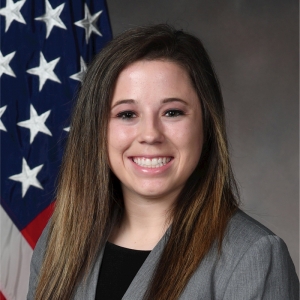 University of Kentucky MBA alumna Taylor Corbett is now the VC-25B Interiors Program Manager for the United States Air Force at Wright-Patterson Air Force Base. In this role, Taylor will be managing the colors, material finishes, and interior architecture of the new Air Force One. Taylor will be working on the team overseeing the inspection of raw materials, end-products, and rooms of the new Air Force One aircraft to ensure they meet "Presidential-Quality" standards, which involves having a close relationship with Boeing, their subcontractors and the Presidential Airlift Group.
"I'm very excited about this new opportunity," says Taylor. "It's simply an honor to be working on the interior architecture of the new Air Force One and apply what I learned in both of my engineering and MBA degrees from the University of Kentucky." 
After graduating with her Chemical Engineering degree in 2016 and MBA in 2017, Taylor joined the United States Air Force's Department of Defense as a Program Manager at Wright-Patterson AFB. Since then, Taylor has managed the ACAT III C-5 Maintenance and Aircrew Training Systems (MATS) Program totaling nearly $18M; the cost, schedule, and performance of the ACAT III Precision Aerial Insertion Program; and procured MC-6 and RA-1 parachutes, in addition to related equipment and training totaling over $32M, in support of Air Combat Command and Air Force Special Operations Command. 
"An engineering degree has assisted me in my career by teaching me how to think logically to reach the root cause of project risks and issues," says Taylor. "By its nature, any project with the Air Force will be technical in some way - aircraft, drones, and special operations equipment are some examples of programs the Air Force manages. Having the mental tools to understand how these systems work (and could improve) on a fundamental level can only make you a better program manager. I also brief leadership frequently on our projects, which is a skill reinforced throughout the MBA program with the endless opportunities to practice public speaking in a comfortable environment."
While enrolled in the One Year MBA at the University of Kentucky, Taylor participated in Project Connect which is the built-in internship and consulting experience in the program whereby groups of students work together to apply what they are learning in class to real corporate/company projects of importance in the marketplace. Taylor was the Project Connect team-lead for Brown-Forman, which is one of the largest American-owned spirits and wine companies which is headquartered in Louisville, Kentucky. 
Taylor says, "I work on a team every single day to meet the goals of our mission. Like Project Connect, every person on our team has a unique skill set (e.g. finance, engineering, business) and we interweave them to achieve success as one unit." 
In recognition of the increasing need for the integration of technology and business skills, more engineers are seeking to hone their leadership, critical thinking, communication, problem solving and team-building skills while increasing their knowledge in economics, finance, marketing and management. Engineering graduates like Taylor, equipped with an MBA, now have the technical, analytical and business skills necessary to lead strategic initiatives in high-tech, operations, manufacturing, or government organizations. 
As far as advice for candidates, Taylor says, "Working for the government means that the underlying motivations are very different from all public and private companies. We don't have shareholders, profit margins, commission or stock. Our job is to give the warfighter what they need to complete his or her mission while ensuring taxpayer money is being used accountably and intelligently." 
Taylor is a proud graduate of the Engineering/MBA Dual Degree program, which intersects technology and business, awarding both the Bachelor of Engineering and Master of Business Administration (MBA) degrees from the University of Kentucky's College of Engineering and the Gatton College of Business and Economics. All UK engineering majors can take advantage of this highly competitive program. Engineering majors from other colleges and universities are still encouraged to apply into the University of Kentucky MBA program.