The University of Kentucky Gatton College of Business and Economics is pleased to announce two Master of Science in Strategic Human Resource Management and Analytics (MS-SHRMA) candidates as President and President-elect of The Bluegrass Chapter of the Society of Human Resource Management (SHRM).  
LaRellen Jones, Director of Human Resources at Family Practice Associates of Lexington, PSC, and Rebecca Wren, Director of Business & HR at the Ronald McDonald House Charities of the Bluegrass, have both been elected President and President-Elect of Bluegrass SHRM for 2023.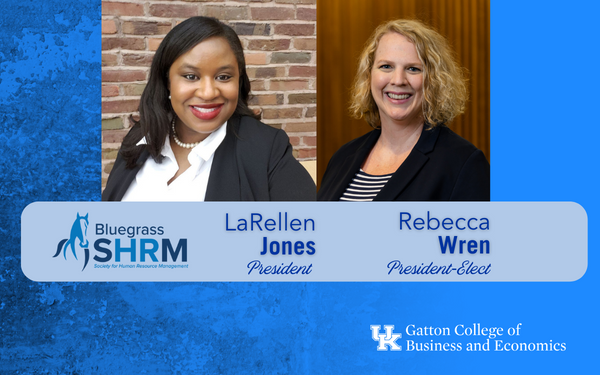 "We're delighted to see our current MS-SHRMA taking on leadership roles in the HR community. LaRellen and Rebecca are excellent ambassadors for us and will be shaping the impact of HR in organizations for years to come," says Scott Soltis, director of the MS-SHRMA program.
"As a seasoned HR Professional, I have enjoyed the MS-SHRMA graduate program. My favorite part about the program is the networking amongst other colleagues and faculty and learning new perspectives and useful tools of Human Resource Management that I can use in my career. The MS-SHRMA graduate program is enhancing the traditional HR analytics and strategies which has allowed for new interests and topics to be shared and discussed in the local SHRM communities. Social network analysis, people analytics, and human capital management are becoming the newest trio in strategic HR, and it's our responsibility to make sure workplaces can analyze, understand and act on the growing data trend," says LaRellen Jones. 
"HR has a tremendous opportunity to strategically create cultures that better support both individual employees and operations. The bottom line? Better lives, better workspaces, better profit margins. In my current role, I specialize in business, finance, information technology, board management, and all functions of an HR Generalist. I always tell people to be the positive change that they want to see in the world. I believe that the positive change that our communities need to help heal from the political divide, social unrest, and turmoil of a worldwide pandemic, lies, in part, within the structure of organizations. How we work is changing and that's not something to be feared, it's something to be celebrated," says Rebecca Wren.  
Rebecca is also the 2022 Meisinger Foundation award winner, a scholarship awarded by SHRM that provides up to $20,000 to students who want to use significant past contributions to the HR management field and who plan to continue contributing to the profession by earning a master's degree in HR. Applications are now open for the 2023 Meisinger Fellowship. Deadline to apply is March 8.  
The Gatton College of Business and Economics' MS-SHRMA program is a 30-credit hour program that focuses on preparing candidates with the knowledge, skills, and abilities needed to elevate a career in HR. The program offers 10 HR courses that promote small class sizes, and individualized attention by top-ranked research faculty, and is offered in-person, online, or hybrid. Visit Gatton MS-SHRMA for more information. 
The Bluegrass SHRM chapter is committed to serving the HR professional and advancing the HR profession in the Lexington area. The chapter was formed in 1957 and includes approximately 300 Human Resource professionals in the Lexington-Bluegrass area.  Visit Bluegrass SHRM pages for more information.