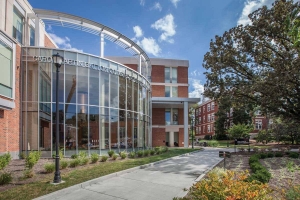 The MBA program at the University of Kentucky's Gatton College of Business and Economics welcomes the 2020-2021 One Year MBA cohort which started the first week of June 2020 and will graduate in May 2021.
This class is a mix of very talented, motivated and high-achieving candidates from a myriad of academic programs, professional experiences and backgrounds. From the previous year's class, this incoming class grew approximately 15 percent, with increases in average GMAT/GRE scores, women and diversity of majors along with maintaining a solid average undergraduate GPA, other academic successes and servant leadership accomplishments. The updated class profile can be found here.
"Being a part of the MBA program has been one of the best decisions I've made," says Jillian Valencia, current One Year MBA student. "I joined this program with a desire to gain experience and knowledge about the business world, and now that I am fully immersed in the program I feel extremely confident that I will come out a well-rounded business leader with an immense amount of real world experience and application. I am so excited to be a part of this cohort and work with some of the brightest and most talented minds I've met."
According to current One Year MBA student Collin Latsko, "Following my graduation from the University of Kentucky, the next step was to find a passion and to position myself to be more effective in any career. The MBA program was the perfect place to cultivate my skills and learn from the next industry leaders. From this cohort, I have found new friends, new opportunities, and a group who is consciously taking on social issues. I have found that success does not come from what you do occasionally, it comes from what you do consistently, and this program is going to push each of us forward."
And current One Year MBA student Kate Mentzer commented, "I chose the UK One-Year MBA program because of the opportunity to gain real world experience through the Project Connect internship. I believe the internship and the focus on data analytics in the program will position me to launch a career in market research. The MBA cohort is filled with talented, driven individuals with a passion for making lasting change to our program and the UK campus."
The One Year MBA is Gatton's full-time option designed for young professionals, recent graduates and emerging leaders. For more information, contact the Director of MBA Recruitment, Christopher T. Carney.