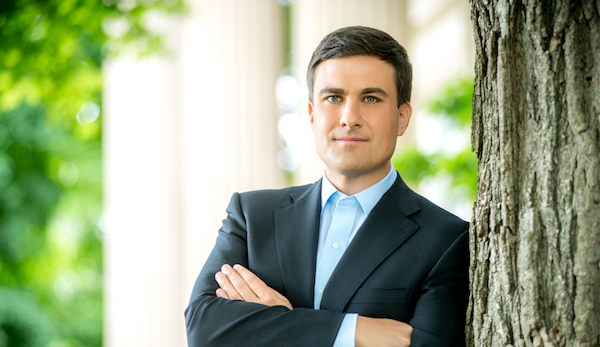 On October 29, twenty four University of Kentucky Wall Street Scholars and Pelissier Scholars met with Nate Morris, founder, chairman and CEO of Rubicon, a software company focused on cloud-based, sustainable waste and recycling services. Morris is the first Kentuckian to be named to Fortune's 40 Under 40 list and the youngest inductees to the Kentucky Entrepreneur Hall of Fame (2019). He is also a member of Dean's Advisory Council for the Gatton College of Business and Economics.
During the one-hour meeting hosted by Dr. Wendy Liu, Director of the Wall Street Scholars program and Director of Undergraduate Studies in Finance, Morris walked through a presentation deck prepared for the meeting and discussed his educational background and the history and growth of Rubicon. He answered questions from the students and shared invaluable advice on entrepreneurial challenges and opportunities in the U.S. 
"It's very valuable to get advice from a visionary like Nate Morris. Hearing his story and tips for making it in the business world left me feeling a step or two ahead of the game," said Matt Pullman, a first-year Wall Street Scholar.  Peter Koutrodimos, a junior Pelissier Scholar majoring in Finance and Accounting with a minor in Business Analytics, commented: "This was the first time I have had the privilege to hear Nate Morris speak, and he definitely delivered. He spoke with a rare articulation and passion about both entrepreneurship and America's future while simultaneously displaying great humility."
Morris believes that the power of business can change the world. He and his company have received extensive media coverage including from Bloomberg News, Forbes, The New York Times, and Vanity Fair. Morris has received many honors and awards, including the 100 most Intriguing Entrepreneurs by Goldman Sachs (2016), Fortune's 40 Under 40 (2014), and World Economic Forum's Young Global Leaders (2014), to name a few.
In addition to his work at Rubicon, Morris is the founder of Morris Industries, a privately held industrial group with long-term holdings focused on the recycling sector, and the Morris Foundation, a non-profit organization investing in causes that provide opportunities for self-advancement, with an emphasis on youth leadership development, the alleviation of rural poverty, girls' and women's empowerment, and access to higher education in Kentucky. Morris is a strong supporter of the University of Kentucky and created the Nate Morris Fellowship. He is also the first entrepreneur-in-residence at the Gatton College and recently has been named a Fulbright Specialist Scholar.
"I greatly appreciate Nate sharing his time with our students." said Liu, "The meeting was educational and inspiring.  We look forward to seeing Nate again in the near future."