The University of Kentucky's Gatton College of Business and Economics is proud to present the spring Gatton Research Excellence Series, a speaker series that connects business research excellence to thought leadership. This event's focus will be Research for Industry Impact and will held from 11 am. to 1 p.m. on Friday, March 24. Keynote speakers include Duke Ferguson, Brian Murtha and Brad Patrick. REGISTER TODAY!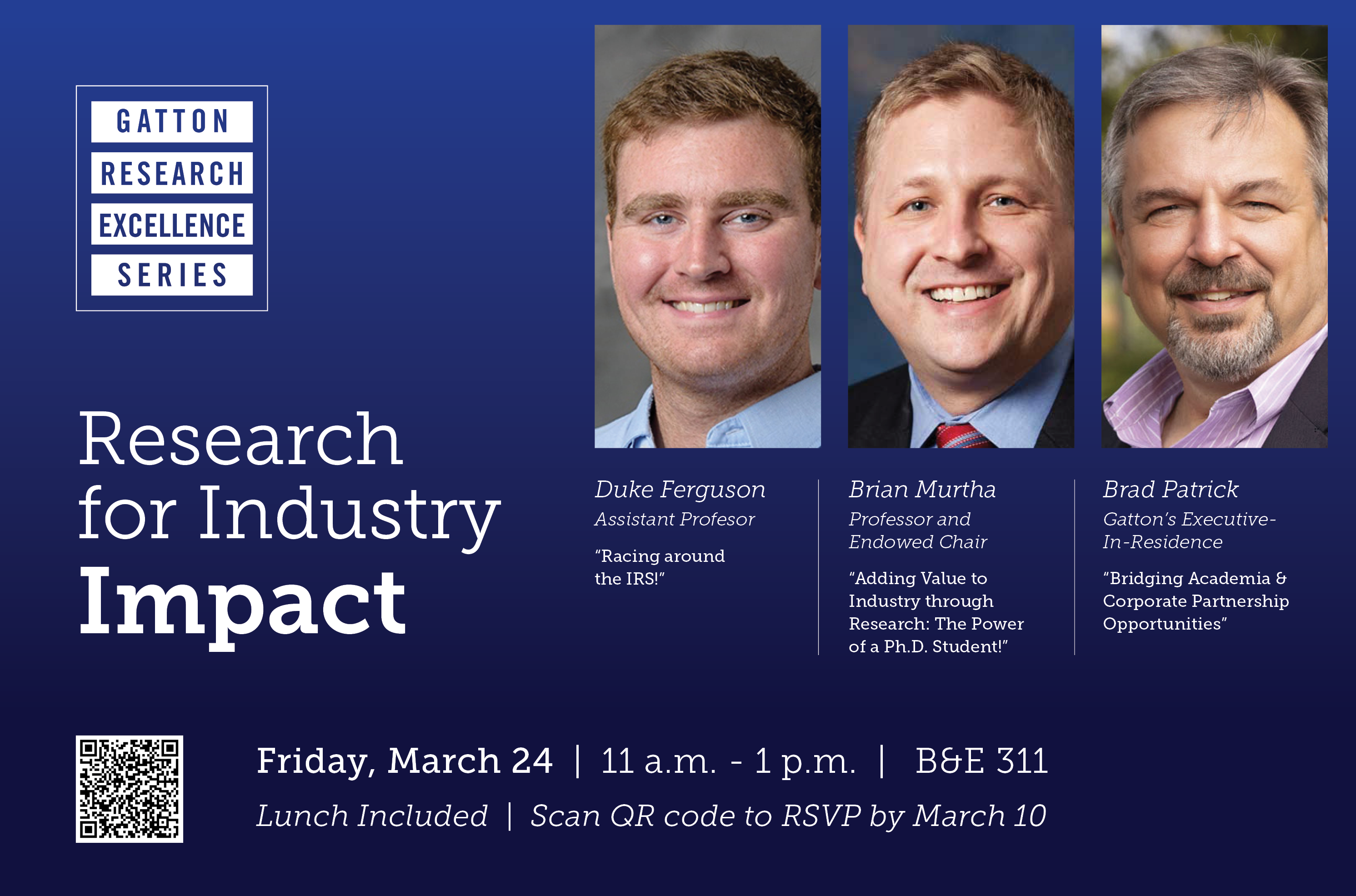 Duke Ferguson, Accounting Assistant Professor
"Racing around the IRS!"
Duke Ferguson will present an overview of two papers that utilize industry data from the thoroughbred racing industry. Working with Equibase Incorporated, headquartered in Lexington, Duke, uses ten years' worth of data to examine how an IRS rule change impacting parimutuel winnings led to behavior changes intended to facilitate under-reporting of income to the IRS. He also examines how thoroughbred owners shift asset allocation in response to federal and state-level tax rate changes.
Duke's primary research interest is taxation, specifically the communication between taxpayers, tax authority and third parties. Some of his research uses the unique setting of the thoroughbred racing industry to examine income underreporting and the relationship between tax rates and risk-taking.
Brian Murtha, Marketing Professor and Endowed Chair
"Adding Value to Industry through Research: The Power of a Ph.D  Student!"
Brian Murtha has worked with customer and operational data from many Fortune 1000 companies. These partnerships have resulted in multiple top-tier publications. Brian will discuss how he has found success working with corporate partners, including the lessons he's learned from identifying, approaching, and engaging organizations and adding value to academic and corporate objectives. He will also discuss doctoral students' role in these partnerships.
Brian's research and teaching focuses on marketing strategy and personal selling. His work has been published in leading marketing and management journals including Journal of Marketing, Journal of Marketing Research, Management Science, and Organizational Behavior and Human Decision Processes. He has worked on marketing and sales consulting and research engagements with Lexmark, AT&T, Ernst & Young, 3M, IKON, and Valvoline Instant Oil Change.
Brad Patrick, Gatton's Executive-in-Residence
"Bridging Academia & Corporate Partnership Opportunities"
Brad Patrick, Gatton's Executive-in-Residence, has worked with numerous leading firms throughout his corporate career. Brad developed relationships with many leading academic institutions across the nation. Brad has led partnerships with the University of Tennessee and University of Illinois with PepsiCo, Sara Lee and the University of South Carolina, the University of Akron with Shearer's Snacks, and locally between the Gatton College of Business and Tempur-Sealy International, Inc., Valvoline, and others. He will explore how he can work with the faculty to find mutual benefits between academic and corporate objectives and facilitate partnership opportunities.
The free event will be held in person in the Gatton College of Business and Economics (Room 311) on the University of Kentucky campus. Presentations will start at 11 a.m., followed by a luncheon at noon. REGISTER TODAY!