Each spring semester, members of the Gatton College come together to celebrate. Students, faculty, and staff are presented with numerous awards to recognize their efforts and dedication throughout the year. The 2022 Gatton Honors Day was held Friday, April 22, 2022 in Kincaid Auditorium. Watch Event
---
A huge congratulations to all of this year's nominees and recipients! 
The 2022 Outstanding Senior Award is selected by faculty members who nominate one outstanding student from their academic department. This nomination also qualifies the student for the nomination for the Dean's Award for Excellence.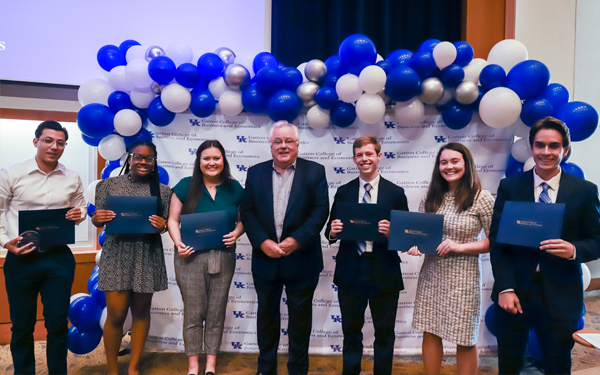 Outstanding Seniors (pictured left to right) 
Mike Hafiz, Finance, Undergraduate Student Support Services 
Kendall DuLaney, Management  
Morgan Seballos, Accounting  
Dean Farmer, Economics  
Megan Foley, Marketing   
Peter Koutrodimos, Finance
Dean's Award for Excellence - Mike Hafiz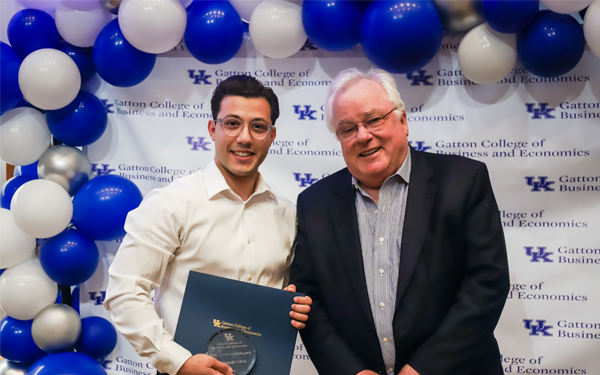 ---
Student Nominated Awards 
Student Organization of the Year | Economics Society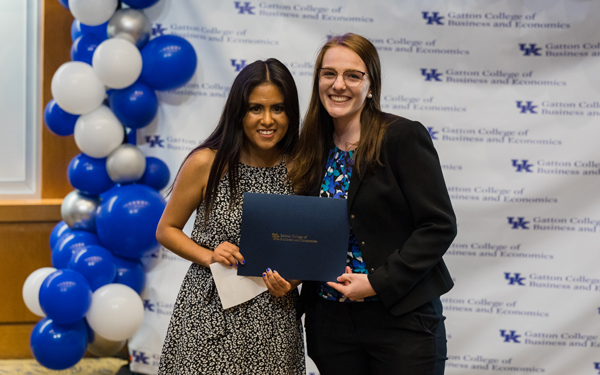 Student Nominated [Faculty of the Year] | Jane Wells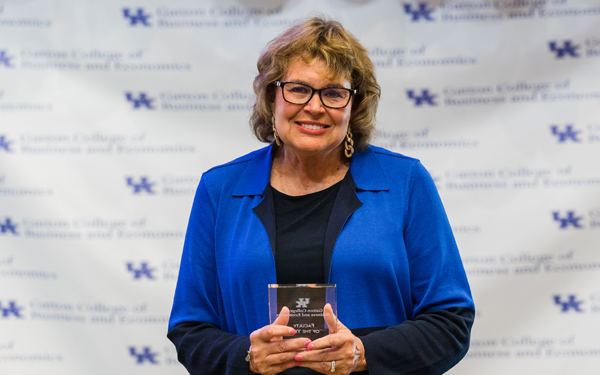 Student Nominated [Staff of the Year] | Betany Crutchfield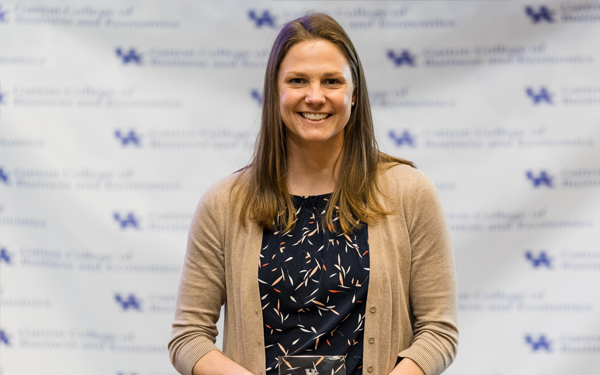 ---
Student Organization Awards
Additionally, student organizations and their outstanding members are recognized for their efforts and dedication throughout the academic year. 
Accounting Club  
Helping Hand Award | Benjamin Ledford  
Alpha Kappa Psi  
Member of the Year | Haley Howard  
American Marketing Association  
Member of the Year | Megan Foley 
Student Marketer of the Year| Haylie Paulin  
Beta Alpha Psi  
Officer of the Year | Emily Cooper 
Economics Society  
Member of the Year | Veronica Reyes 
Most Enthusiastic Award | Patrick Laufenberg  
Finance Society  
Member of the Year | Chris Winger  
Unmatched Dedication | Justin Lariviere   
NABA – Minority Business Professionals  
Member of the Year | Jack Bullard 
Senior Leadership Award | Precious Adeyinka  
Phi Beta Lambda  
Member of the Year | Michael Lane Cecil 
Member of the Year | Maddie Hall   
Salesforce Club  
Member of the Year | Evan Strasburger 
Trailblazer of the Year | Molly Pine 
MBA Student Association   
Member of the Year | Robert Prince 
Crypto Club   
Member of the Year | Chandler Vaught 
Gatton Ambassadors  
Member of the Year | Rohan Munnolimath 
Leadership Excellence Award | Vanessa Pryor