The University of Kentucky's Gatton College of Business and Economics is launching the Gatton Research Excellence Series, a new speaker series that connects business research excellence to thought leadership. The inaugural event will be held from 11 am. to 1 p.m. on Friday, Nov. 5. Keynote speakers will include two recipients of the 2021 Gatton Research Excellence Awards: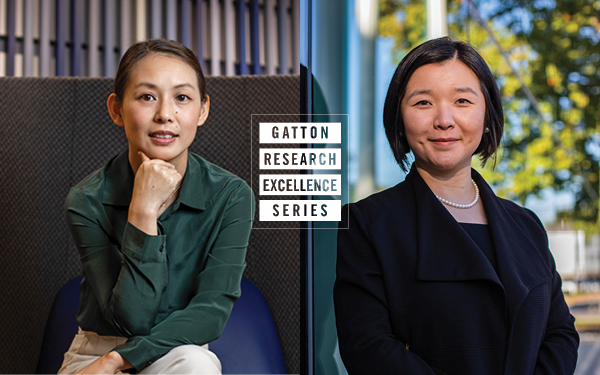 Huiwen Lian - Lian will present on "What If My Boss is a Bully? The Antecedents and Consequences of Abusive Supervision." She is the Gatton Endowed Associate Professor of Management and Director of Graduate Studies at the Gatton College. Lian's research focuses on leadership and counterproductive behaviors at work. She has published articles in leading journals such as the Academy of Management Journal, Academy of Management Annals, Journal of Applied Psychology, Organizational Behavior and Human Decision Processes, Personnel Psychology, and Journal of Management, among others. Prior to joining the Gatton College in 2017, Lian was a faculty member at Hong Kong University of Science and Technology. She earned her Ph.D in Management in 2011 from the University Of Waterloo.
Lala Ma - Ma will present on "What are the Consequences of Pollution? How Evidence from Fracking and Flooding Can Inform Policy Decisions."  Ma is an Assistant Professor of Economics at the Gatton College. She is an environmental economist whose research focuses on estimating the values placed on environmental quality as assessed through housing markets and health impacts. She has worked on a range of topics, including the impacts of brownfield remediation, valuation of flood risk, and the effects of shale gas development. Her work also examines how markets potentially contribute to the inequitable distribution of pollution based on socioeconomic status. Ma earned an M.A. and Ph.D. in Economics from Duke University in 2014 before joining the faculty at the University of Kentucky.
"Professors Lian and Ma are excellent scholars in their fields," said John Peloza, associate dean for research at the Gatton College. "I'm thrilled that they will share their insights on these important topics with a broader audience of students, scholars and community leaders."
Lian and Ma, along with Professor of Marketing Brian Murtha, received the 2021 Gatton Research Excellence Awards last spring. These awards are part of the Gatton College's broader strategic mandate on the Research Excellence Initiative, which is to influence the thinking of business leaders, policy-makers and scholars around the world by providing insight and analysis of key topics critical to the business, policy, and research communities.
The free event will be held virtually and in the B&E on the University of Kentucky campus. Presentations will start at 11 a.m., followed by a luncheon at noon. Registration is required by Wednesday, November 3. To register, visit the event page.