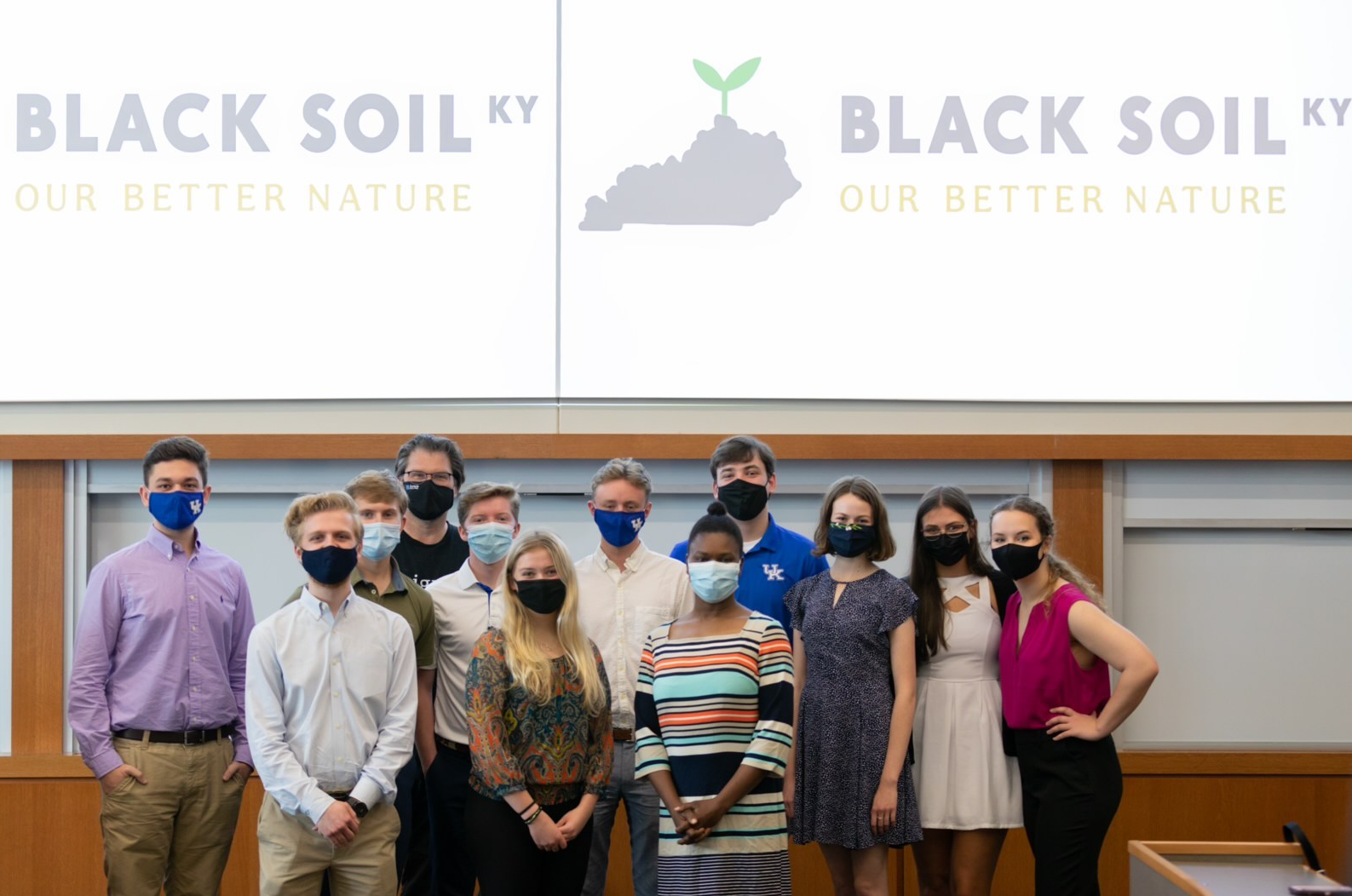 Regardless of who we are or where we live, eating fresh, locally produced food is a pathway to healthier living and community involvement. But for Black Soil co-founder and COO Ashley Smith, a much-needed social justice connection was missing from that equation. 
In 2017, Smith and Trevor Claiborn founded Black Soil - a social enterprise organization with multiple missions, all revolving around supporting Black farmers in the Commonwealth. From farmer's markets to marketing support and loan and grant assistance, Black Soil aims to reconnect Black Kentuckians to their agricultural heritage. Through this work, they hope to repair the inequalities that have long hindered the progress of Black-owned farms.
"To be able to sustain the agriculture industry, we need to recruit diverse and inclusive populations," Smith said. "And we need to heal the narrative around African Americans and agriculture so that people can be focused and empowered in the autonomy."
During the spring 2021 semester, students in Dr. John Peloza's B&E 327 Global Scholars class had the opportunity to support this mission through an experiential learning project. Student teams were provided with funding and tasked with creating and implementing unique marketing strategies for Black Soil's CSA programs. 
"I firmly believe that projects of this nature are immensely important in regard to gaining real-world, hands-on experience before entering the workforce," said Grace Niedermann, Accounting, Economics '23.  "I think they set Gatton's curriculum above and apart from other business colleges." 
While all teams were tasked with selling the same CSAs, their strategies differed widely. One team focused on market research and learning more about the Black Soil customer to create targeted messages. Another concentrated their efforts on community connections by working with local restaurants (which make up 23 percent of minority-owned Lexington businesses) and collaborating with local influencers. Others relied on traditional digital marketing strategies like social media ads and promotional codes (which Black Soil will continue to use). 
For Sophia Biagi, Marketing, Management `23, learning the importance of flexibility in a challenging marketplace was particularly rewarding. "Our team's original plan had to be scratched and we took on an entirely different target market," she said. "This ended up allowing us to connect with some incredible people who were eager to support Black Soil and the farmers behind the organization." Biagi and her team (which included Niedermann) partnered with local restaurants and cafes, including Lussi Brown Coffee Bar in downtown Lexington. In June, Lussi Brown will display flower arrangements to promote Black Soil's Farm to Vase subscription service. Biagi also found value in learning how to apply the concepts she learned about corporate social responsibility outside of the college. "Not only were we able network with local business leaders, but it was on behalf of an organization with a powerful mission in the Lexington community. Through this project, we gained lasting skills and an understanding of the importance of community engagement and service."
Overall, according to Peloza, while it did produce a good return on investment, the project's success was based on more than just revenue generated. "The concepts we teach are fairly simple, but the application is exceedingly difficult," he said. "Starting with a blank slate and building something of value is intimidating to a lot of people. Many are comfortable just being told what to do. But whether (our students) start their own businesses or work for an existing organization, success will require envisioning a future and making it happen. This makes our graduates infinitely more employable, and have a greater potential impact after graduation."
And there's another benefit. After this experience, students will enter the workforce as culturally competent, community-engaged citizens. In the words of Gatton College Honors Pathway Director Dr. Serenity Wright, "It's not only about supporting Black Soil because of their mission, but it also reflects our commitment to ensuring our students understand, and are empathetic to, systematic differences for historically marginalized populations."