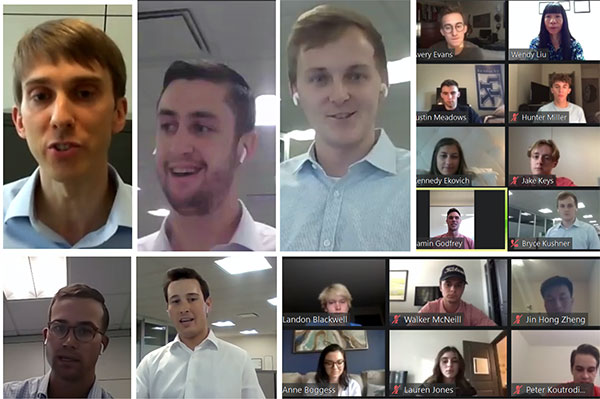 This fall, the UK Finance Society held its first meeting via Zoom. Dr. Wendy Liu, Director of the Wall Street Scholars and faculty advisor to the Finance Society, hosted the one-hour meeting which included five speakers from Koch Equity Development (KED). The panelists included analysts, associates, as well as KED's director of finance. They shared the joys and challenges of investing and offered invaluable career advice to more than 65 University of Kentucky students, including MS Finance students.
Four of the five speakers are UK Gatton alumni and included:
Hunt graduated summa cum laude from the Gatton College in 2006. After winning the $100K Pershing Square Challenge in 2013, Hunt graduated from Columbia University's MBA program with Dean's honors and distinction (top 5 percent of the class) and joined KED in 2014. Hunt has also served as one of the three judges to the annual UK stock pitch competition since 2018.
Austin Bach and Wade Bailey joined KED in 2017 and 2018 respectively, and are the inaugural members of UKFAN (University of Kentucky Finance Alumni Network), a platform launched in 2020 by the department of finance and quantitative methods to recognize alumni early finance career success and initiatives to mentor and support UK students. Since 2017, the University of Kentucky has seen four students break into private equity by joining KED, thanks to early finance career development and alumni mentoring success. KED will begin recruiting for 2021 internships soon.
During the meeting, Senior Associate Mitchell Hanson (Oklahoma State University `14, Finance and Accounting) and an incoming analyst, Ben Godfrey `21 (UK Gatton College of Business Finance and Economics), also shared their experiences and insight into qualities of the best analysts.
Many firms are recruiting for 2021 finance internships in the next few weeks. For those applying for internships or graduating in December 2021 or May 2022, it is crucial to have a polished resume and research positions and firms. For those pursuing investment banking, private equity, or investment management careers, it is important to show Excel and valuation skills. Make make sure you're connected to the Graham Office of Career Management to find out about the latest companies that are hiring, featured jobs, and more. 
Wall Street Prep, a training provider for top investment banks, private equity firms, and Fortune 100 companies, offers (at a deep education discount) a two-day online seminar of Financial Statement Analysis and Valuation Excel Modeling this fall, marking the sixth year the seminar is offered at UK. Information about a fall training session is coming soon. 
For questions about UKFAN, Wall Street Prep seminar, or additional Finance Society meetings this fall, please contact Dr. Wendy Liu at wendy.liu@uky.edu.
View original article on LinkedIn.