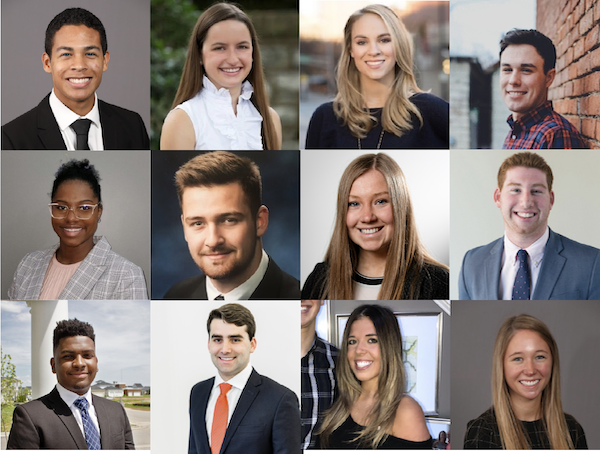 The most recent Finance Society meeting was attended by more than 60 students, and featured an alumni panel offering advice about the changing recruiting landscape. They also shared  their experience working remotely during COVID-19.
Finance Society President and 2020 Pelissier Scholar Paul Keaton said, "This meeting was a great success, and we are extremely grateful for the contributions of all of our panelists. By hosting virtual meetings with engaging speakers like these each week, the Finance Society has been able to keep meeting attendance high, even in the face of a worldwide pandemic."
The audience ranged from first-year undergraduate students to Master's of Finance students. Dr. Wendy Liu, Director of Wall Street Scholars and the faculty advisor to the Finance Society, hosted the one-hour Zoom meeting.
The panel included four seniors returning from 2020 summer internships and eight first-year analysts: 
Immanual Aleman `20 (JP Morgan, Global Finance & Business Management)
Kate Bisig `20 (Goldman Sachs, Investment Banking  - Real Estate Finance Group)
Caroline Corley `20 (Redburn Partners, Equity Sales and Research)
Ben Godfrey `21 (Koch Equity Development, Private Equity)
Jada Green `20 (Goldman Sachs, Consumer & Investment Management)
Nick Harker `20 (Mizuho Securities, Investment Banking)
Elena Messuro `21 (UBS, Rotational Private Wealth Management)
Drew Rosenzweig `19 (Bank of America, Financial Management Analyst Program)
Matt Ruuska `21 (GE Aviation, Financial Management Program)
Graham Sparks `20 (JP Morgan, Private Banking)
Shannon Strivieri `21 (Nestlé, Rotational Financial Management Trainee)
Maddie Westerhold `20 (JP Morgan, Global Finance & Business Management)
Panelists Caroline Corley, Elena Messuro, Jada Green, Nick Harker, Drew Rosenzweig and Graham Sparks are Pelissier Scholars, a small group of students selected across campus annually to participate in co-curricular activities, including a networking trip in New York City. 
MS Finance candidate Winston Duncan commented, "This was a wonderful opportunity to meet the successful alumni on the panel. They gave great advice and were happy to answer our questions. If you're considering entering the finance industry, I highly recommend joining the Finance Society."
Questions about Finance Society or the Pelissier Scholarship can be directed to Dr. Wendy Liu.