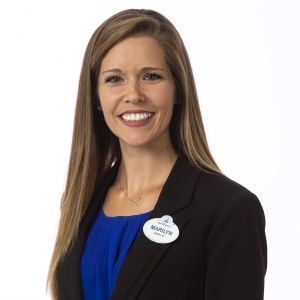 Students come to the University of Kentucky to follow their passion and pursue their purpose. UK MBA alum, Marilyn West was no exception. In the fall of 2007, she was a bright-eyed freshman with high aspirations. The Northern Kentucky native earned two diplomas from UK — a bachelor's degree in mechanical engineering and a master's degree in business administration. Throughout her time on campus, West met fellow students who became lifelong friends and faculty members and academic advisors who became trusted mentors. Her dream job came true with dogged determination, and of course, a little bit of magic. West also knew she needed a support system to succeed. And that's exactly what she found at UK.
"It is such a huge honor to carry on the legacy of Walt Disney himself," Marilyn said. "I am thrilled to continue this wonderful tradition and share the magic of Disney every day."
West would not only go on to work at the "most magical place on earth" — she would become one of the smiling faces that represents the resort. Last year, she was offered the role of a lifetime and named a 2019-2020  West would not only go on to work at the "most magical place on earth" — she would become one of the smiling faces that represents the resort. Last year, she was offered the role of a lifetime and named a 2019-2020 Walt Disney World Ambassador.
West also credits College of Engineering staff members for helping her seize opportunities and eventually enrolling into the UK MBA program at the Gatton College of Business and Economics. 
"Ilka Balk encouraged me to step out my comfort zone and study abroad for the first time — where I developed valuable communication skills while learning how to live in and adapt to a different culture," West added. "Kim Sayre helped me to broaden my professional skillset by encouraging me to pursue my MBA through the Engineering/MBA Dual Degree program. All three of these women never gave up on me, and more importantly, they never let me give up on myself."
West knew she would one day have to stand out among a sea of applicants. In an effort to build her resume, she applied for one of Disney's coveted internships. Following her sophomore year, West was accepted into the Disney College Program — a unique internship that allows participants to network with leaders, take part in personal and career development classes and build transferable skills.
In the summer of 2009, West worked at The Seas with Nemo & Friends at Epcot, where she learned the ins and outs of daily operations and how to provide exceptional service to guests. West later applied for an engineering internship through Disney Professional Internships. She would go on to complete three engineering internships at Walt Disney World Resort. From attraction safety to water filtration systems and everything in between, West experienced what it took to maintain the magic. The hands-on experience and networking would pay off. Upon graduating in 2013, West became a project manager for the Worldwide Safety organization at Walt Disney World Resort.
"Studying at UK helped me to realize the importance of teamwork and communication, and those skills have helped me adapt to and succeed in every role I've had at Disney thus far."
Those skills — paired with her unwavering commitment and undeniable passion — didn't go unnoticed. In September 2018, West was named one of the 2019-2020 Walt Disney World ambassadors. The two-year position was started by Walt Disney himself back in 1965 at Disneyland Resort and has since expanded to many Disney sites across the world, including Walt Disney World Resort, Tokyo Disney Resort, Disneyland Paris, Hong Kong Disneyland Resort and Shanghai Disney Resort. As a Disney ambassador, West spends her days recognizing Walt Disney World cast members and celebrating Disney's past, present and future.
"Walt Disney once famously said, 'you can dream, create, design, and build the most wonderful place in the world, but it requires people to make that dream a reality,'" she said. "I hope to continue to remind all of our cast members that they play such an important role in creating happiness for so many people every day."
Full story titled "UK Alumna Lands Dream Job, Named Walt Disney World Ambassador" from UK NOW can be found here.