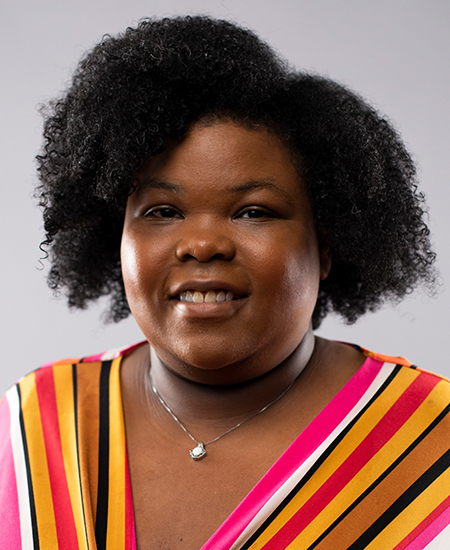 Ryessia Russell
Director of Honors Pathways
Ryessia Russell joined the Undergraduate Resource Center in the Gatton College of Business and Economics as Director of Honors Pathways in May 2022. As the Director, Ryessia provides logistical and operational support for the College's pathway programs. Ryessia enjoys working with honors students because they seek to challenge themselves and actively learn more about the world they live in through their studies, travels, co-curriculum experiences, and conversation.
As a child, Ryessia moved often because her father served in the United States Army. Because she had the ability to travel and be emerged in different cultures, diversity and inclusion has always been important to Ryessia. Although she did not grow up in one place, Ryessia often calls Mississippi and Kentucky home. Ryessia earned a Bachelor of Arts in Communication from the University of Kentucky and Master of Arts in Communication from the University of Louisville. She has more than 10 years of experience working in high education and has worked with honors and high-achieving students for much of the time. She began her higher education career as a night desk clerk and manager at the University. Prior to returning to her alma mater, she served as an Assistant Director of Smith GLS and Business Fellows in the Haslam College of Business at the University of Tennessee, Knoxville. While in Knoxville, TN, Ryessia was selected to be in Knoz.biz 40 under 40 Class of 2021 and awarded the Empowering Leadership in Administration Award (2019) and The Tim Williams Staff Award for Professionalism Award (2021). She was also a finalist for the Tim Williams Staff Award for Professionalism in 2022.
Outside of academic and career responsibilities, Ryessia enjoys traveling, reading, watching reality television, and going to the farmers' market. Her favorite activity is to spend time with her husband Marcus, and two daughters, Olivia and Delilah.