Dr. Kenneth R. Troske, the Richard W. and Janis H. Furst Endowed Chair of Economics at the University of Kentucky has been appointed to a National Academies of Sciences, Engineering, and Medicine, Committee on Population, panel on A Research Agenda for Improving Economic and Social Mobility in the United States.
Inequalities in income, wealth, health, and life expectancies have been increasing over the last several decades in the United States. Since around 1980, fewer Americans than before are doing better than their parents had – that is, more are experiencing downward socioeconomic mobility. This study will develop a systematic and comprehensive research agenda on economic and social mobility, with the ultimate intent of informing and influencing the direction and funding priorities for the broader field. The study will also strengthen the evidence base for policymaking, helping to inform mobility-related policy and evaluation efforts at the local, state, and federal levels.
"I am deeply honored and humbled to have been selected for the NASEM Social Mobility Panel committee. It is a privilege to have the opportunity to work alongside esteemed faculty experts from the nation's highest-ranked universities and to contribute to meaningful discussions and initiatives that will have a positive impact on society. I look forward to working collaboratively with the committee to develop a research agenda that will help stimulate additional research on these important topics for the foreseeable future," says Troske.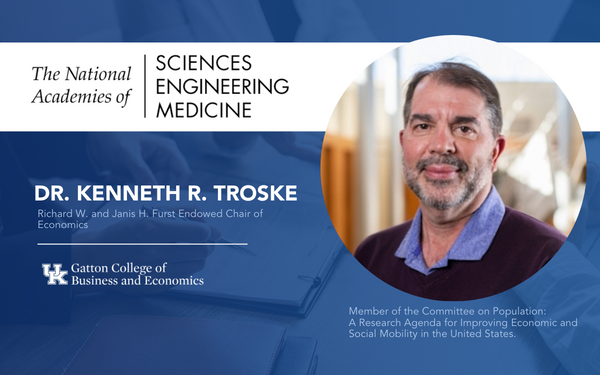 About the committee: An ad hoc committee of the National Academies of Sciences, Engineering, and Medicine will undertake a study that will review and assess what is known about the factors that influence economic and social mobility in the United States, the mechanisms through which these factors operate, and how these relationships and mechanisms vary across and within different population groups. The study will identify key knowledge gaps; discuss promising conceptual, methodological, and data approaches; and make recommendations for policy-relevant research.