CINCINNATI, February 6, 2023—In a ceremony held at Cincinnati's Music Hall on January 26, the Greater Cincinnati Tri-State Chapter of the American Red Cross honored Chair and CEO Rodney McMullen and the Kroger Family of Companies with the 2nd annual Clara Barton Award for Humanitarian Service.This prestigious award is presented to a dynamic leader or organization that demonstrates inspiring humanitarian concern for our community and advocates to make it a better place for us to live and work.
In accepting the award, Mr. McMullen credited the 420,00 Kroger associates for their commitment to humanitarian service in the community. "They care about each other, care about their customers, and care about their communities," McMullen said. "Together we all can make a difference and together we are helping to make the world a better place."
Rodney McMullen led Kroger in directing more than $1.6 billion in charitable giving to support national and local organizations that feed families and build stronger communities. "Considering the parameters of the award, Mr. McMullen was the perfect recipient for this honor," said Stephanie Byrd, Regional CEO of the Central & Southern Ohio Region of the American Red Cross. "In addition to its inspiring charitable giving, Kroger is a leader in Diversity, Equity and Inclusion, recognizing the value of each person and the importance of creating environments that fuel collaboration, inspiration, and individual growth."
The award is named after the remarkable founder and first leader of the American Red Cross, Clara Barton. Based on her inspiring legacy to the nation, this award focuses on service to humanity, as reflected in the services provided daily by the devoted volunteers of the American Red Cross. The Clara Baron Award for Humanitarian Service event gives the Red Cross an opportunity to recognize community leaders for their service, as well as highlight the work of the Greater Cincinnati Tri-State Chapter. The funds generated serve as an important source of revenue in supporting the life-saving Red Cross programs in Hamilton, Butler, Warren, Brown, Clermont, Dearborn, Ohio, Boone, Kenton, Campbell, and Grant counties.
The award ceremony can be viewed by clicking on this link, where donations can still be made to the American Red Cross.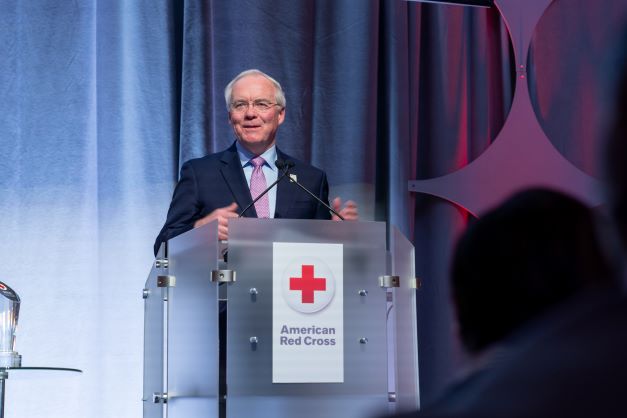 About the American Red Cross:
The American Red Cross shelters, feeds and provides emotional support to victims of disasters; supplies about 40 percent of the nation's blood; teaches skills that save lives; provides international humanitarian aid; and supports military members and their families. The Red Cross is a not-for-profit organization that depends on volunteers and the generosity of the American public to perform its mission. For more information, please visit www.redcross.org/cincinnati or join us on Facebook and Twitter at @ARCcsor or on LinkedIn ARC Central and Southern Ohio