The Gatton College of Business and Economics' Darshak Patel has received the Kenneth G. Elzinga Distinguished Teaching Award from the Southern Economic Association® (SEA) a national recognition for his contributions to economics education.
The award recognizes individuals, who have developed innovative instructional methods, teach unusual courses that explore the boundaries of economics, implement interdisciplinary instruction that links economics with other disciplines, and/or have performed research on how to teach economics effectively or evaluate economic learning. Darshak was presented with the award in November 2022 at the SEA's Presidential Luncheon and Annual Business Meeting in Ft. Lauderdale, FL.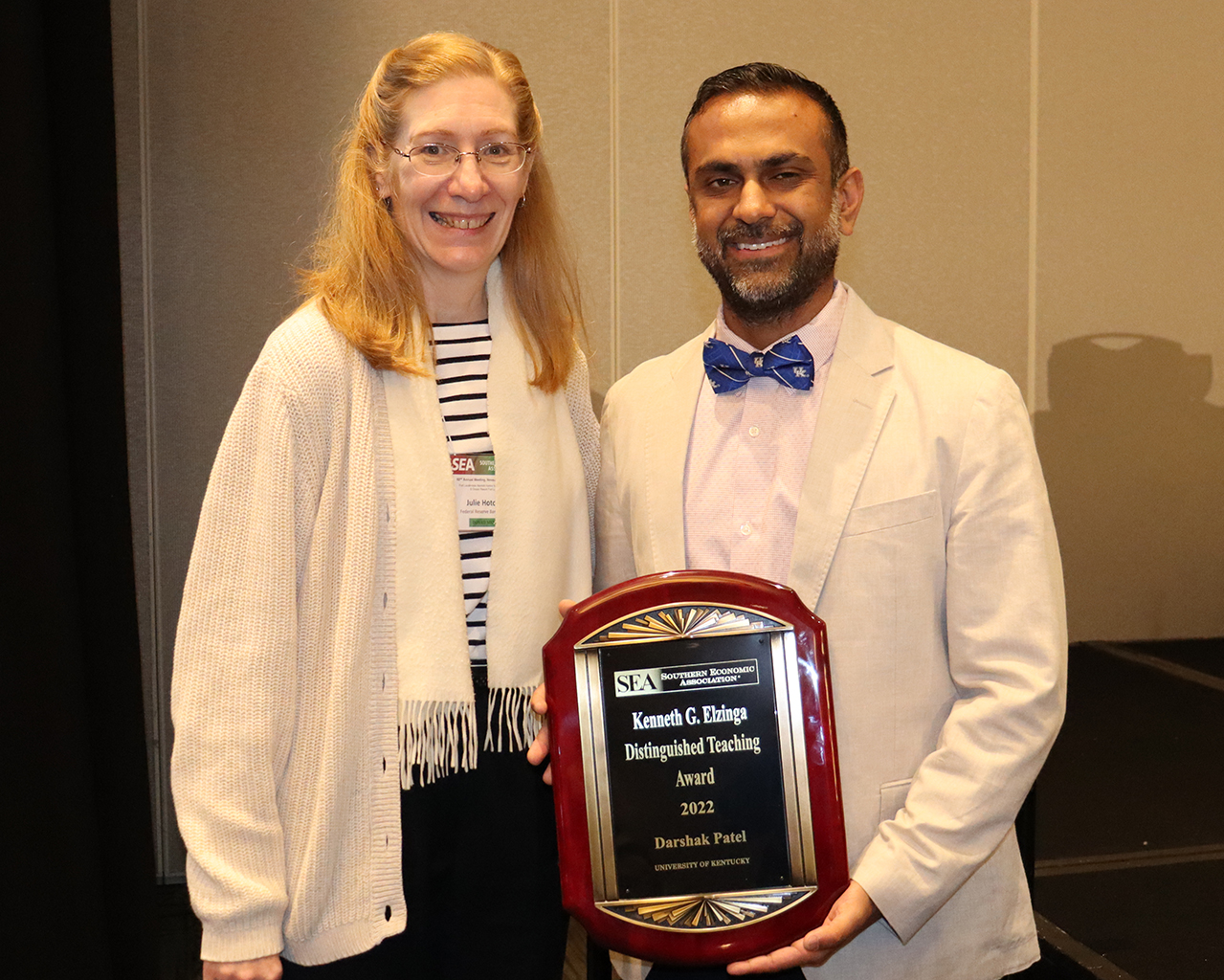 "Darshak works tirelessly both inside and outside of the classroom to improve the quality and delivery of our undergraduate program in Economics and the Gatton College. Our students, and the faculty who work with him, have benefited greatly from all he has done to enhance the learning experience," said James Ziliak, Economics Department Chair, Gatton College of Business and Economics, "Receipt of the Elzinga Award is further evidence that he is truly a UK Great Teacher."
"I am extremely honored to be receiving such an important award that signifies my commitment towards economics education," said Patel. "Winning this award would not have been possible without the inspiration I have received from my colleagues and students, for whom I have the deepest respect, and the commitment from the Gatton College of Business and Economics toward our student success."
Darshak Patel is a senior lecturer and Director of Undergraduate Studies in the Department of Economics at University of Kentucky. Darshak is devoted to bringing the real world into the classroom. His list of publications is a must-read for understanding how social media (Twitter in particular) impacts student learning, the importance of financial literacy education for closing gaps in economic outcomes, how psychology can create mental blocks to learning, and how easily accessible digital tools (such as television, video scrapbooking, and online data sources) can enhance economic education. His most notable success is the creation of a program called "EconGames." Darshak solicits the cooperation of a corporate partner to supply data and an economic problem. Groups of students have 24 hours to analyze the data, create a presentation, and present their solution to the industry partner -- sort of like economics meets Shark Tank/Interning-for-a-Day. In five years, and through local and international partnerships, the program has gone from a classroom activity to international fame. As our world becomes more data-driven, analytics and visualization are important skills that students will have Darshak to thank for their development.
A leader in the economic education community, Darshak is well-renowned for his publications in the Southern Economic Journal, Journal of Economic Education, International Review of Economic Education and Journal of Economics and Finance Education. He is also the recipient of several awards including the Excellence in Undergraduate Teaching Awardf from the College of Business and Economics, the Global Affairs Award in 2015 from the University of Tennessee Martin, he is a two-time recipient of A Teacher Who Made a Difference in 2015 and 2017, a recipient of the Gatton College Award for Teaching Excellence and Faculty of the Year award in 2019, the UK Alumni Association's 2020 Great Teacher Award and the University of Kentucky's Outstanding Teaching Award in 2021.
For more information on Gatton's economics program, visit here.