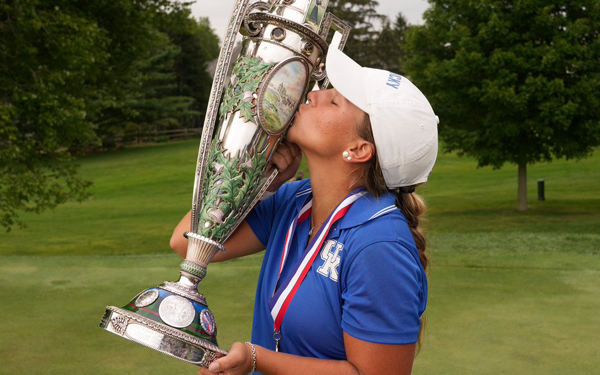 Current management and marketing major at the University of Kentucky's Gatton College of Business and Economics and Women's Golf student athlete, Jensen Castle, recently won the U.S Women's Amateur Golf Championship becoming the first player in UK's history to win.
"Still hasn't registered," Castle said. "It feels like just another tournament, but then I step back and I'm like, this is a USGA event with so much history, and I just can't imagine."
Originally from West Columbia, SC, she is the first No. 63 seed to win the event and the third No. 63 seed in United States Golf Association history to win a title since seeding began in the 1980s, according to the USGA.
With the win, Castle has clinched a spot on the eight-woman 2021 USA Curtis Cup Team that will face Great Britain and Ireland in Wales later this month, Aug. 26-28. She is also now exempt for the next 10 U.S. Women's Amateurs and earned invitations to the 2021 Women's British Open and the 2022 August National Women's Amateur. By making Sunday's finals, Castle already clinched a spot in next year's U.S. Women's Open after qualifying as an amateur this year.
For the latest on the Kentucky women's golf team, follow the team on Twitter, Facebook, and Instagram, as well as on the web at UKathletics.com.
For the full story, read UK Athletics "Jensen Castle Wins the U.S. Women's Amateur Championship."