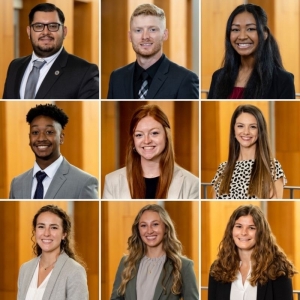 The University of Kentucky's MBA Student Association (MBASA) leadership team for the 2021-2022 class at the Gatton College of Business and Economics was recently announced which includes the following students (pictured left to right starting on the top row):
"The MBASA team is incredibly excited and honored to serve as leaders for the MBA programs at UK," says MBASA President, Arya Shoa. Our shared goal is that the MBASA will serve as the voice of the MBA cohorts, and work to continuously advocate for the interests of the students. Additionally, the MBASA will work to provide resources in pursuit of maximizing each student's academic results, safety, mental health, and overall enjoyment while in the program."
The MBASA is a group of current students who represent the entire UK MBA class with the mission of enriching the quality of student life by building relationships among fellow students, faculty, administration, alumni, prospective students, and the business community. The UK MBA Student Association officials are selected by their peers, along with the input of staff and faculty, to help lead the class in areas of professional development, social events, community service, diversity and inclusion, and student engagement.
For more information on the MBASA and to meet the officers, visit here.