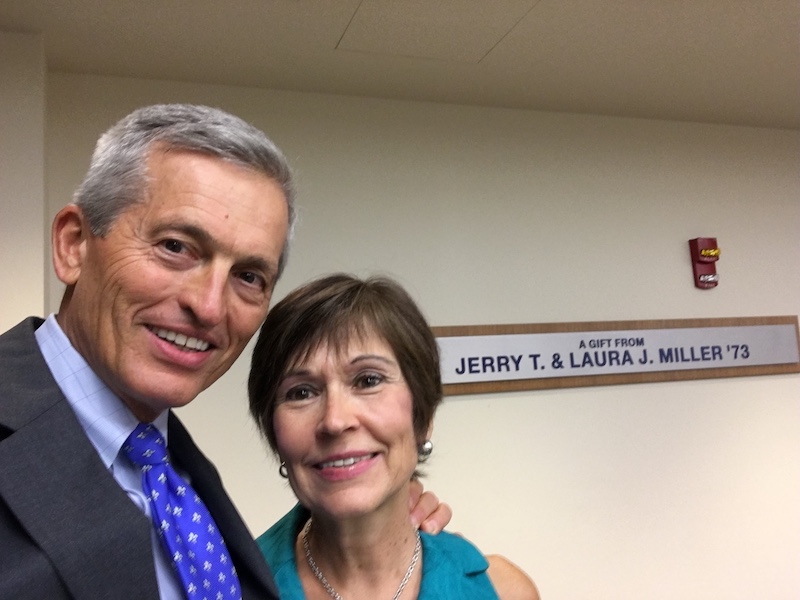 Through the newly established Laura J. and Jerry T. Miller Endowed Scholarship, Laura Miller `73 and Rep. Jerry T. Miller `73 are offering an opportunity for an incoming sophomore to receive financial support to complete their Gatton degree. They have also made contributions to the Gatton Capital Campaign with a named classroom, and have also made posthumous arrangements to give ten percent of their estate in order to assist a greater number of students. Their generous full-tuition scholarship is one of the largest, single-family endowed gifts to the Gatton College.
The couple, who met in a math class at UK and who both completed undergraduate degrees in accounting, agree that the college provided a supportive environment that has contributed to their success. 
Jerry Miller is a Republican member of the Kentucky House of Representatives, representing District 36. He assumed office on January 1, 2015 and his current term ends on January 1, 2021. His career experience also includes working as a CPA and Vice President of Billing and Enrollment at Humana, and Executive Director for Finance and Administration for the Commonwealth of Kentucky. 
As first-generation college students, the Millers recognize the need to pay it forward. According to Jerry Miller, "We were each blessed with parents who were able to fund our tuition, books, and room and board.  That was a time when the cost of higher education was very affordable for middle-class families. Since the cost of higher education has risen dramatically over the last 40 years, it is becoming out of reach for many promising students. We feel it is important for us to support a new generation."
The Millers encourage anyone who has the financial ability to consider funding a scholarship or a bequest to the Gatton College in their wills. "While most of us like to think we are 'self-made', it is probably more accurate to say we climbed a ladder built by others," Jerry said. "Our parents gave us loving homes that valued hard work, but UK and Gatton prepared us academically for the climb we would make. We want to enable promising students lacking financial means to make that same climb."
A gift to the Gatton College can enhance opportunities for student success, fund innovative research, and much more. If you are interested in supporting our mission, visit uky.networkforgood.com/causes/4723-gatton-college-of-business-economics​​​​​​​