Six of the University of Kentucky's passionate and accomplished educators were recently surprised by student nominators and the UK Alumni Association as 2020 Great Teacher Award recipients.
Darshak Patel is one of this year's Great Teacher recipients. "This has to be one of my favorite, favorite, favorite moments of my life," he said.
As a lecturer and the director of undergraduate studies in the Gatton College of Business and Economics, Patel hopes to ignite curiosity among his students. "To see them leave the university and achieve their potential goals — and to know that you played a small role, no matter how small it is, that you played that role — I think that makes it worthwhile."
Patel is well-known for pushing boundaries to create avenues for learning that extend beyond the traditional classroom walls and provide lasting educational experiences.
Besides being well-versed in world economics, Patel also makes a valiant effort to be approachable to his current and past students — as well as students who have never taken one of his courses.
"I think, it's important to have someone to go talk to just about life. He has sincere, real-life advice," Jocelyn Caola, a finance and economics student, said. "He inspires me to be better, and do better, and get involved."
To learn more about what makes Patel a "Great Teacher" and why Caola nominated him, check out the video above.
Initiated in 1961, UK's Great Teacher Award is the longest-running UK award recognizing teaching. In order to receive the award, educators must first be nominated by a student. The UK Alumni Association Great Teacher Award Committee, in cooperation with the student organization Omicron Delta Kappa, then makes the final selection. Recipients receive an engraved plaque and stipend.
In the coming weeks, UKNow will continue to share videos featuring this year's Great Teacher Award winners.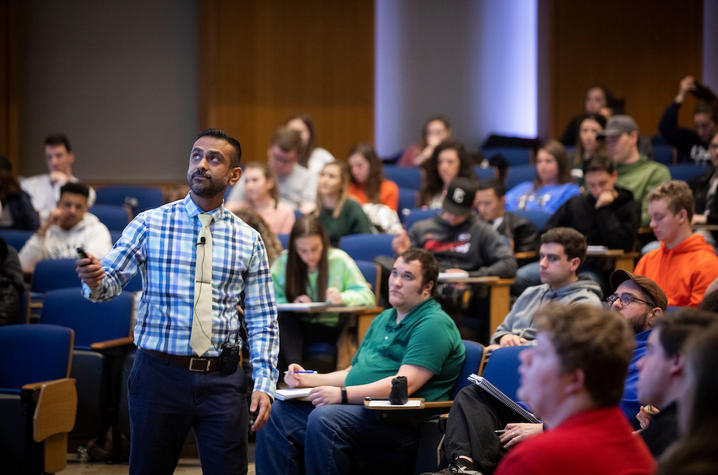 Great Teacher award recipient Darshak Patel teaching his class in Kincaid Auditorium. Pete Comparoni | UK Photo.