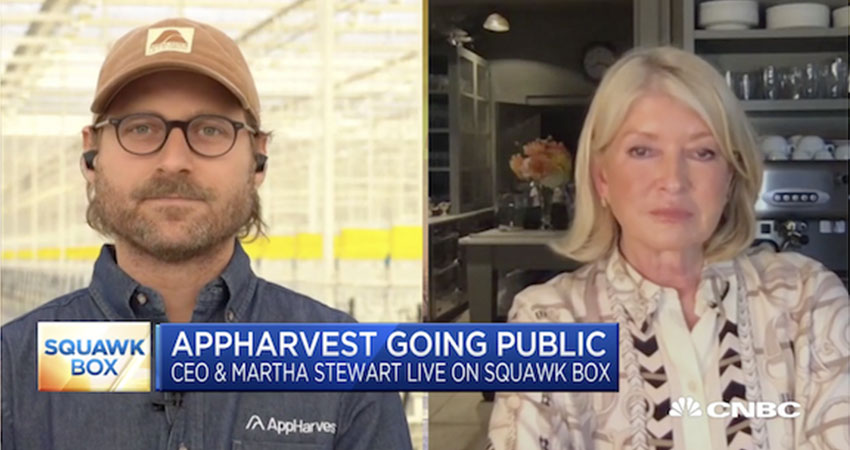 Gatton alum Jonathan Webb is blazing a serious trail in the indoor farming industry with his company AppHarvest. The start-up that prides itself on being the future of agriculture and has media mogul Martha Stewart on its board, has gone public. Kentucky-based AppHarvest merged with a special purpose acquisition company, Novus Capital Corporation, while picking up $475 million in financing, $375 million of which is coming through a PIPE, or private investment in public equity. Shares of Novus Capital rose more than 15 percent after the deal was publicized.
AppHarvest operates a 60-acre facility in Morehead, Kentucky, and will use funds from the deal to build additional facilities beyond its original property. This fall, AppHarvest will open one of the worlds largest indoor controlled environment agriculture facilities in the region, creating more than 300 jobs.
The company has attracted many environmentally and socially-minded financiers. Its board includes Jeff Ubben, the ValueAct co-founder who invested in the company through his E.S.G. fund, Inclusive Capital, and Stewart. Former News Corp. CEO James Murdoch is an investor as well. 
"We believe that becoming a public company will allow us to rapidly scale our agriculture technology and create the country's ag-tech capital from within Appalachia," the company stated in a press release. 
Webb and Stewart recently joined CNBC's Squawk Box to describe the deal and how it will help the company expand.
"My job is to make sure we're building," CEO Webb told host Andrew Ross Sorkin. "We built one of the largest structures in the world ... we did it in the middle of a global pandemic."
Stewart described her first meeting with Webb and bonding over an appreciation for sustainable agriculture. "I have noticed and am part of the secular shift to vegetable-based diets here in the United States, and AppHarvest fits the bill. The way they're going to be able to grow fruits and vegetables sustainably ... really, really interests me, and I think that they're riding a wave into the future and I'm so excited about it."
In 2018, AppHarvest set out to redefine American agriculture, aiming to grow food closer the people who consume it, and to do so without the harsh chemical pesticides so commonly used. "We aimed to create good jobs for our friends and neighbors here in Central Appalachia, where we can deliver our fresh, delicious fruits and veggies to nearly 70 percent of Americans in just a day's drive," said Webb.