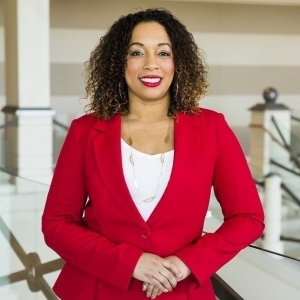 Victoria Russell, alum of the MBA program at the University of Kentucky's Gatton College of Business and Economics, is the current Chief of Diversity, Equity & Inclusion at Papa John's International, Inc and was recently spotlighted in the Business Women First: Woman Making a Difference by Louisville Business First. Victoria has been with Papa John's for almost 13 years and had to make the tough decision to stay with a company that was battling through some tough issues this year. 
"I wanted to do things differently, to highlight diversity that exists in the company, and to make sure we are actually creating an inclusive culture for all people," says Victoria. 
The department under her leadership has conducted diversity training for 95 percent of staff in the corporate offices and is in the process of rolling out training for store leadership, including franchisees, then will move the training into the store staff. Russell said while the job is the most challenging that she's ever had, it's also the most rewarding.
"There are so many ways that people carry bias and don't even know it. I think it's kind of eye-opening for everyone, myself included," said Victoria. "I love that we're having courageous conversations that we've never had before. People are discussing things and we're really seeing how all of this pushes the brand forward.
The company has new partnerships with companies, such as Endeavor Global Marketing and Nimbus, a local, black-owned marketing company, which has created new ads that feature franchisees and employees.
"We are actually 87 percent franchised, so most people don't know that when you're buying that pizza, you're supporting locally owned and operated businesses," says Victoria. "I think that's why this role is so important — to create that focus there, and make sure things are equitable and inclusive for all of us."
The future for Russell and Papa John's is bright and according to Victoria, diversity is very crucial to the continued success of the brand.
Victoria says, "The focus is on the 120,000 team members. They're all working to support their families, and the franchisees that are supporting their families and the communities that they serve. I'm really proud to be a team member at Papa John's."
Victoria Russell is a native of Louisville and a graduate of the University of Kentucky, where she got her bachelor's degree and MBA. She worked in marketing at Lexmark, then came back to Louisville and worked for Humana Inc. and Brown-Forman Corp. Victoria has proudly been with Papa John's International for the past 13 years. Headquartered in Louisville, Kentucky, Papa John's International, Inc. (NASDAQ: PZZA) is the world's third-largest pizza delivery company and continues to expand its global presence by recently opening its 2000th restaurant outside of North America.
Copy Credit: Louisville Business First's Business Women First | Woman Making a Difference: Victoria Russell (April 24th, 2019)