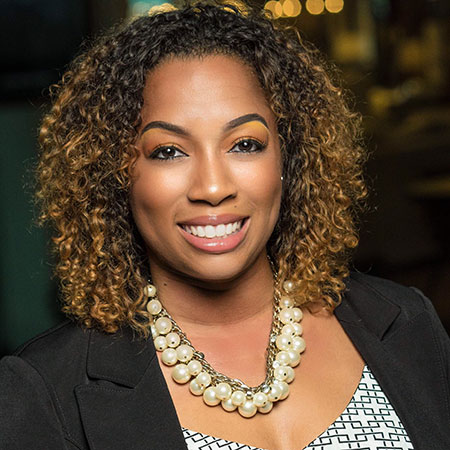 University of Kentucky MBA alum Victoria Russell was honored recently as the alumni recipient of the Lyman T. Johnson Torch of Excellence Award for the Gatton College of Business and Economics at the 29th Annual Lyman T. Johnson Torch of Excellence Awards Luncheon Ceremony on October 11th, 2019.
This award is given to an African American alum of the College whose faith, hard work, and determination has positively impacted the lives of people on campus, the city, state or nation. This recognition was particularly special this year as UK commemorates the 70th year anniversary of Lyman T. Johnson who was the first African American student to attend the University of Kentucky back in 1949.
"Thank you to my alma mater University of Kentucky for the prestigious honor of the Lyman T. Johnson Torch of Excellence Award," says Victoria. "This is especially meaningful to me as we celebrate 70 years since Lyman T. Johnson desegregated the university."
Victoria is the current Chief of Diversity, Equity & Inclusion at Papa John's International in Louisville, KY. In this role, she is responsible for leading the company's efforts to ensure that the commitment to diversity and inclusion remains a top strategic priority across all aspects of Papa John's business operations which includes more than 5,000 stores in over 45 countries. Victoria is the first African American female to sit on the Executive Leadership Team at Papa John's International, a global brand of 120,000 team members.
She's committed to using her voice to bring change and equitable opportunities, ensuring Diversity Equity & Inclusion (DE&I) are woven into the fabric of Papa John's DNA. The DE&I vision at Papa John's is to enable Papa John's team members, customers, supplier, partners, and franchisees of all backgrounds to feel included and a part of the Papa John's family; allowing the brand's diversity to be its strength and competitive advantage.
"Dean Sheather and I had the pleasure of celebrating with Victoria at the awards ceremony," says Nicole Jenkins, Executive Associate Dean for Administration, Faculty and Research and Von Allmen Endowed Chair of Accountancy. "She is an excellent example of the many Gatton College alumni who embody our tagline 'Blue Means Business.' We look forward to seeing Victoria's future successes."
Victoria graduated with both her Bachelor's degree in Marketing and Management along with her MBA from the University of Kentucky's Gatton College of Business and Economics. During her time at UK, Victoria was President of the MBA Student Association (MBASA) and held offices in the National Black MBA Association, Student Government and Alpha Kappa Alpha, Sorority Inc. After graduation, Victoria has been in several leadership roles including Lexmark, Humana, Brown-Forman and now at Papa John's for the past 13 years. Victoria also currently serves on the boards of the Leadership Louisville Center, Fund for the Arts and the YMCA of Greater Louisville. 
The Lyman T. Johnson Torch of Excellence Awards Ceremony also showcased a piece of artwork done by Lyman T. Johnson's grandson, Imar Hutchins, to commemorate his grandfather's historical impact on UK. Read the full story titled "Lyman T. Johnson's Grandson Unveils Portrait Collage of Grandfather" on UK NOW here.