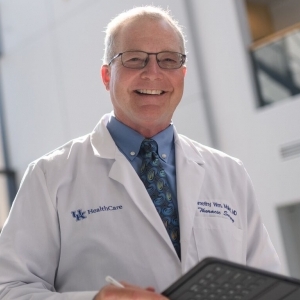 University of Kentucky MBA alum Dr. Tim Mullett serves as the current Medical Director for the University of Kentucky Markey Cancer Center Affiliate and Research Networks. Tim Mullett, MD, MBA, FACS, joined UK HealthCare in 1996, helping to form UK Markey Cancer Center's first full thoracic oncology practice. Since 2015, Dr. Mullett has served as medical director for the UK Markey Cancer Center Affiliate and Research Networks, which help ensure that high-quality cancer care is readily available to patients across the region.
"By working with patients in the early stages of this disease, I can give them their best chance to beat it," says Dr. Mullett. "Seeing patients come back is truly inspirational, and seeing someone who is four, five or 10 years out from cancer surgery is pretty exciting. The other thing that has been fascinating is the evolution of multidisciplinary care. Seeing patients progress through treatment with fewer side effects, better outcomes and longer, fuller lives has allowed me to see cancer care in the bigger picture."
The Affiliate Network was started in 2006 with three affiliate programs and now has grown to 20 programs. Since starting the Research Network in 2014, they have extended Markey's research to seven programs across the region. By bringing these programs into these networks, this helps provide a "blueprint" of what a high-quality cancer program looks like in terms of early detection, precision medicine resources and assistance with treatment decisions. As a result, this is allowing more programs to offer comprehensive care to patients close to home. In 2015, it was mandatory for the Affiliate Network programs to be CoC (Commission on Cancer) accredited which is the gold standard of cancer accreditation. Understanding that not every cancer program is CoC accredited, they want to help programs reach that goal. Once they have earned that accreditation, they are equipped to deliver their highest quality cancer care and become an Affiliate Network member. Currently, Markey Cancer Center represents more than a third of cancer cases diagnosed in Kentucky. 
"Our goal is to see the cancer burden in Kentucky reduced by 50 percent, says Dr. Mullett. "We can achieve that through these networks and by developing early detection programs and changing the culture that has given Kentucky a cancer burden heavier than any other state. Over the next five years, we aim to expand Markey's reach to as many patients as possible."
Unfortunately, lung cancer is extremely prevalent in Kentucky. In response, they are now 150 specialists serving areas from Pikeville to Paducah, with the majority belonging to members of this network. With this growth of specialists, this helps detect lung cancer earlier and treat patients better. By aligning with the ORIEN Network and Markey's Molecular Tumor Board, network members are able to take advantage of the latest developments discovered for treatment in the precision medicine field.
When asked about what is most exciting about leading these networks, Dr. Mullett says, "The opportunities that the networks present are so exciting. When I have the opportunity to train others, I am amplifying what I can do. Working with residents, fellows and students gives me the chance to extend my own work and cancer care. By working with programs to create solutions to common problems, we can guide patients to the right place. If they need care close to home, we make it easy for them to get the care they need. If they need precision medicine or a specialty surgery, we want to be available to them. Working with Markey's Affiliate and Research Networks gives me the opportunity to have the biggest impact on Kentucky's cancer burden."
Read the full interview titled "Networks extend care across the Bluegrass" on UK Markey Cancer Center's blog page here.