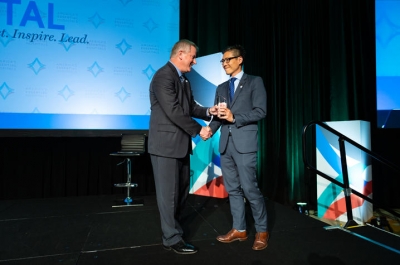 University of Kentucky MBA alum and Chief Medical Officer at UK Healthcare, Dr. Phillip Chang recently accepted the Gage Award for Quality on behalf of the approximately 9,000 people of physicians, nurses, pharmacists and other healthcare professionals that represent UK Healthcare. 
America's Essential Hospitals, which represents 300 hospitals committed to caring for the vulnerable and keeping communities healthy, awarded UK HealthCare the 2019 Gage Award for its work on safer opioid use within an academic health system. The Gage Awards, named after association founder Larry Gage, honors successful member hospital programs that improve patient care and meets community needs. 
Over the years, Dr. Chang has seen his fair share of patients who were dealing with significant pain and these patients would receive opioid for pain management. Most recovered and were weaned off the medication as planned. But roughly five years ago, Chang observed an unsettling trend.
In 2013, Chang approached his fellow trauma surgeons and, with the help of UK HealthCare pharmacists, established some new guidelines: no opioid prescriptions unless all non-opioid options have been maxed out. The team began a pilot study, ultimately noticing that they had successfully decreased the number of opioid going home with patients at discharge.
In 2016, UK HealthCare launched a multidisciplinary opioid stewardship committee (OSC) to give prescribers the tools, knowledge, skills, and attitudes to prescribe opioid safely. Led by Chang, now UK HealthCare chief medical officer, and UK HealthCare pharmacist Douglas Oyler, PharmD, the project sought to "close the gap" between the current usage of opioid for pain management and what the best evidence-based research recommends.
More than 70,000 Americans died from a drug overdose in 2017, and Eastern Kentucky and Appalachia have been devastated by the opioid crisis. Minimizing exposure to opioid is critical to reducing opioid-related mortality and many become addicted to heroin started down that path due to prescription opioid use. A doctor's prescription can become a "gateway" for the disease.
In 2018, UK HealthCare launched an official Office of Opioid Safety. Taking their pilot study in trauma and expanding it across the UK HealthCare system, the team focused heavily on physician and patient education around the new guidelines for minimal opioid prescribing. The goal was to impact as many patients as possible. Of note, four surgical disciplines so far now perform what Chang dubs "opioid-free surgery," where the only potential opioid patients might receive come from an anesthesiologist in the preoperative stage. Otherwise, patients are given specific protocols using over-the-counter medications to handle any pain.
So far, these new protocols around opioid prescriptions at UK HealthCare are working. Since the committee was formed, more than 1,300 fewer prescriptions are written at hospital discharge, and high-risk opioid use has decreased by 57 percent. Importantly, aggregate pain scores from patients have not worsened.
"Yes, our project will take a long time to bear fruit," Chang said. "I have to remain constantly optimistic and doggedly persistent that this is going to work, and we are going to help the next generation."
Click here to read the full "From Pilot Study to Culture Change: How UK HealthCare Is Reducing Opioid Prescriptions" article on UK NOW