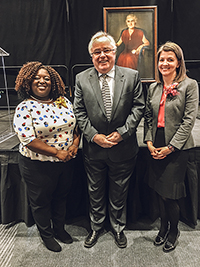 Shonta Phelps, Director of Leadership Initiatives and Living Learning Programs and Dr. Jenny Minier, Sturgill Professor; Director of the Center for Business and Economic Research, were both finalists for the Sarah Bennett Holmes Award, created by the UK Women's Forum. This award recognizes female members of the UK community for their contributions to issues that affect women at the University and across the Commonwealth. The nominees were honored and awards presented on March 27.
In addition to directing Leadership Initiatives & Living Learning Programs at Gatton, Shonta Phelps serves as the instructor for the honors seminar Leadership in the Global Marketplace for the Global Scholars and Social Enterprise Scholars Honors Pathways. With a focus on student development, she coordinates several leadership programs within the college, including the Gatton Ambassador program and Women Business Leaders (WBL). She has nearly 15 years of experience in higher education spanning an array of focus areas including undergraduate recruitment, enrollment management, academic advising, student support services, and leadership development. In 2015, she was recognized by the Gatton College with the Judith Milburn Haywood Staff Award for her outstanding contributions to the college and its students.
Jenny Minier is a professor in Gatton's Department of Economics, and director of the college's Center for Business and Economic Research (CBER). The Center distributes economic information and provides economic and policy analysis to assist decision makers in Kentucky's public and private sectors. CBER performs research projects for federal, state, and local government agencies, as well as for private-sector clients nationwide, and publishes the Kentucky Annual Economic Report. Dr. Minier's primary research interests are in economic growth and development, particularly the role of financial markets in economic development and the relationship between democracy and economic growth. She joined the college in 2004.
The UK Women's Forum created the Sarah Bennett Holmes Award in honor of the distinguished former dean of women at UK, who tirelessly championed the rights of women throughout her career. Widowed at a young age, Holmes raised four children while completing her own education. She then began a successful career at the university where she inspired young women to persevere in the face of hardship and pursue their career goals. Among her accomplishments, Holmes developed work programs for women during the Depression. Since 1994, the award has been honoring women at UK who demonstrate the same principles as Holmes through their work and service.
Read the full story about the Holmes Award on UKNOW.