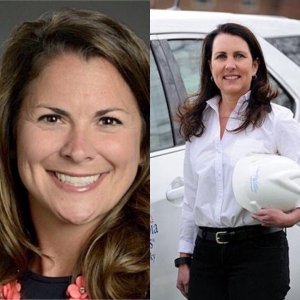 University of Kentucky MBA alumna Mary Beth Wright, Business Development Executive at Messer Construction and Kimra Cole, President and Chief Operating Officer at Columbia Gas of Kentucky were recently recognized in The Lane Report's "Top Women in Business", along with other professional women. This feature highlights some of the women around Kentucky (and southern Indiana) who are making an impact in business, their professions, politics and economic development. The intent is to recognize professional women in key roles whose work ethic and body of work are making important contributions to commerce and in their respective communities.
Mary Beth Wright, who received her Bachelor's of Science in Civil Engineering with a minor in mathematics and an MBA all from the University of Kentucky, has been with Messer Construction for 17 years and currently works as their Business Development Executive. Some of her accomplishments have included being named the University of Kentucky College of Engineering Young Engineer of the Year (2015), Chair of the Lexington Downtown Development Authority (LDDA), which Mary worked the board to merge with the Downtown Lexington Corp. (DLC) into a single organization called the Downtown Lexington Partnership along with leading sales efforts for Messer Construction Co. in over $700 million of investment in capital construction at the University of Kentucky in the last seven years, as well as the recent $241-million construction contract for the expansion and renovation to the Lexington Convention Center and Rupp Arena. 
Regarding advice for younger women in business, Mary Beth says, "Always stay focused on the present and maintain a positive perspective. There are many things throughout your day, week, month and career that you cannot control. But having a positive mindset to start each day makes all the difference in how we handle what comes our way." 
Kimra Cole is the current President and COO of Columbia Gas of Kentucky. Her previous roles included Vice President of Distribution Operations, NiSource (Columbia Gas of Kentucky's parent company); Vice President and General Manager, Columbia Gas of Kentucky; Operations Center Manager, Columbia Gas of Kentucky; Director of Engineering, Kentucky Public Service Commission; Commissioner of General Services, Lexington Fayette Urban County Government along with various roles in operations support, facilities, sales, marketing and real estate; director of marketing and sales at Columbia Gas of Kentucky. Kimra received her MBA and Bachelor of Science in Chemical engineering both from the University of Kentucky. 
Regarding advice for young women in business, Kimra says, "Don't expect to see a change if you don't make one." 
Messer Construction Co. is a construction manager and general contractor, providing leadership for complex, commercial construction projects in the Aviation, Health Care, Higher Education, Industrial, and Science and Technology market segments. An employee-owned company, Messer's transformational investment in its people, communities and innovative building solutions has enhanced the landscape of the 10 regions throughout the Midwest and Southeast in which its employees live and work. A local builder with national resources and expertise, the company has delivered value for more than 85 years through quality construction and client experiences, taking care to both exceed customer expectations and build long-term relationships.
Columbia Gas of Kentucky delivers clean, affordable and efficient natural gas to approximately 135,000 customers across the state. Headquartered in Lexington, it is one of NiSource's seven regulated utility companies. NiSource (NYSE: NI) is one of the largest fully regulated utility companies in the United States, serving approximately 3.5 million natural gas customers and 500,000 electric customers through its local Columbia Gas and NIPSCO brands.
Click Here to Read the Full Lane Report's "Top Women In Business" Article