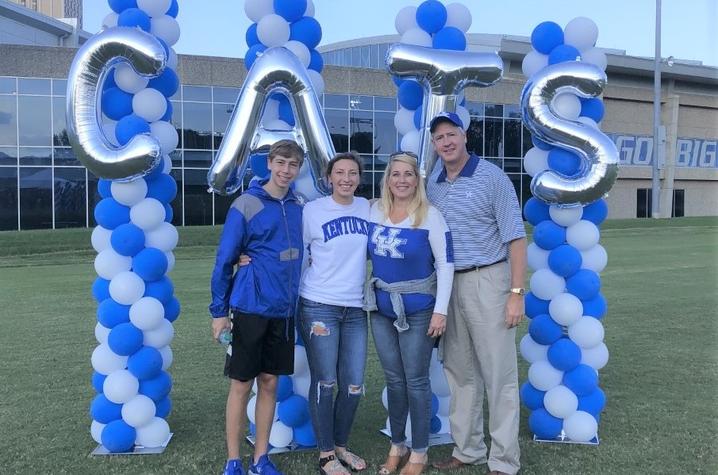 Parents and families play a valuable role in the lives of students. While a student's life changes as they transition into college, so do the lives of the family members who send them off to school. Through that major life transition, family support is vital. To recognize the dedication of Wildcat families and the importance family support plays in student success, the University of Kentucky Parent and Family Association is honoring Gatton College student Abby Benton and her family as "Family of the Year" at this year's Family Weekend celebration, Sept. 13-15, 2019. 
Abby Benton is a sophomore in Gatton, where she is a Global Scholar and a UK 101 Peer Mentor. She became a Wildcat fan the day she was born. Longtime supporters of the school, both her mom and dad attended the university, raising her to bleed blue just as they did.  
"My parents love to tell me about student life on campus in the 1990s and how they remember having classes in White Hall or Chem-Phys," she said. "If I had to pick a super fan for UK, it would have to be my parents."
Before stepping foot on to campus, Abby knew she wanted to come to school at UK. She's a sophomore now, and her family's devotion to the university has only grown and their family bond has become stronger. 
"I love that my husband and I were UK sweethearts and now our daughter is a Wildcat," Amy Benton, Abby's mom said. "Being a part of the Wildcat family is a bond we will share for our lifetimes."
Abby has found a new home at the university and couldn't imagine spending her college years anywhere else. Although her family is from Knoxville, Tennessee, the Bentons often make the drive up to the Commonwealth to cheer on the Wildcats and to show their support for Abby, making her time at UK a memorable one and with her family right by her side and her goals at the university that much more achievable. 
"My family is dedicated to this school and to my education. My parents have traveled up to Lexington multiple times just so our family can cheer on the Cats together," Abby said. "My family members are crazy Cats fans, but when you put us together, we become fanatics."