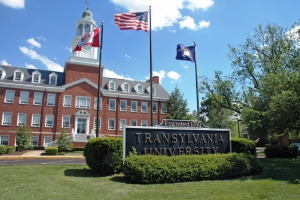 The University of Kentucky's Gatton College of Business and Economics is partnering with Transylvania University on a new 4+1 Master of Business Administration (MBA) pathway program.
The partnership allows more qualified Transylvania graduates into the full-time, One Year MBA option which is designed for young professionals and recent graduates. For competitive candidates who meet certain admissions criteria (GMAT/GRE, UGPA, etc.), they will be able to take advantage of additional scholarship opportunities to attend the UK MBA. Students of all majors are eligible to apply to the program, provided they meet preparatory requirements and admissions requirements. 
"This is a great opportunity for our students to benefit from Transylvania's broad-based liberal arts curriculum, as well as an accelerated path to an advanced business degree," said Vice President and Dean of the University Laura Bryan. "The personal, one-on-one training they receive from our faculty uniquely prepares them to excel at Gatton."
Harvie Wilkinson, MBA Program Director at Gatton said, "Transylvania has a long history of graduating exceptional students that we feel will thrive in the UK MBA program. Although we've had alumni of Transylvania join and graduate from the UK MBA program over the years, it made sense for us at this time to formalize a stronger partnership that provides more incentives for graduates of Transylvania to join our program." 
The final admission deadline, if space is still available, to the Gatton College One Year MBA program for 2019 is May 11, but students are encouraged to apply by the Jan. 15 priority scholarship deadline. 
Before applying into the UK MBA make sure to read through our Admissions Requirements, MBA Preparatory Courses, GMAT/GRE Waiver Policy and FAQ's. If you have further questions, please contact Christopher Carney, Director of MBA Recruitment at the University of Kentucky.