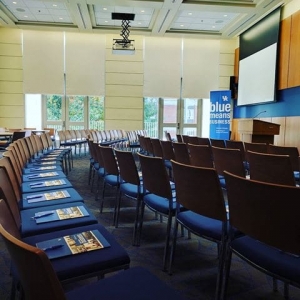 Executives and University of Kentucky MBA alumni from Tempur-Sealy International, Messer Construction, PepsiCo and UK Healthcare lead a stellar panel of speakers at the University of Kentucky's Gatton College of Business and Economics on Thursday, December 13th, 5:30 PM at UK's Gatton College building on campus.
This professional panel will include Jill Johnson, Marketing Director at Tempur Sealy International; Mary Beth Wright, Business Development Executive at Messer Construction Co.; Sarah Rediford, Sales Senior Zone Supervisor at PepsiCo and Dr. Zaki Hassan, Medical Director of Clinical Simulation and Professor of Anesthesiology & Surgery at UK Healthcare.
These business leaders will discuss their graduate school experiences in the MBA program at UK's Gatton College, as well as their own experiences navigating today's business climate. Their talk is hosted by the Gatton College Professional MBA program, as part of Gatton's Professional MBA Open House event. This event is open to UK employees, working professionals and executives in Central Kentucky. The event has limited seating and registration is required at www.gatton.uky.edu/MBA-RSVP.
Jill Johnson began her career at Tempur Sealy International as a New Products Program Manager in 2010. She then became a Brand Manager in 2014 before moving into her current position as the Director of Marketing, Stearns & Foster at Tempur-Sealy's Headquarters in Lexington. Prior to her employment at Tempur, Jill was a Process Engineer at Ceradyne, Inc. in Lexington where she developed, optimized, monitored and maintained manufacturing processes for their ceramic body armor operation. Jill is also a current member of the UK MBA Advisory Board and serves as a company sponsor for Tempur Sealy in the Project Connect internship program in the One Year MBA program at Gatton. Jill graduated both with her MBA and B.S. in Materials Engineering from the University of Kentucky.
Regarding Jill's experiences as a student in the UK MBA program, "I really enjoyed learning and interacting in class with other working professionals from many different industries and organizations in Central Kentucky. Although you learn a lot from the MBA coursework, you learn valuable things from your classmates too. I would recommend taking advantage of engaging and networking with your classmates as much as possible inside and outside of the classroom."
Mary Beth Wright, who earned both her MBA and Civil Engineering degrees at UK, has been with Messer Construction for 16 years, and will speak about how her MBA helped her lead many of the amazing Messer projects including the recent $241-million contract bid to build the new and expanded Lexington Convention Center along with modifications to Rupp Arena in downtown, Lexington.
As the Business Development Executive, Mary Beth's charge each day is to grow Messer's business in Lexington and Central Kentucky by securing new projects and growing relationships with existing clients for Messer. Some previous Messer projects with which Mary Beth has been involved include Shriners Hospitals for Children Medical Center — Lexington's ambulatory surgical center and clinic, Pikeville Medical Center's, twelve-story medical office clinic and parking garage, Berea College's Deep Green Residence Hall and Margaret A. Cargill Natural Sciences and Health building, and the University of Kentucky's Don and Cathy Jacobs Science Building, College of Pharmacy and Residential Renewal.
"My time at the University of Kentucky's Gatton College of Business and Economics gave me the tools I need in my job to be successful," Mary Beth said. "From group projects to our Capstone project, my MBA experience taught me how to effectively work with a team of people to accomplish a common goal. I also learned the importance of effective project management skills which helped with this very complex project pursuit."
Sarah Rediford, who is a current student in the Professional MBA program at UK, joined PepsiCo in 2011 working as a part-time Summer Merchandising Intern. Afterwards, Sarah quickly advanced to District Sales Leader, Senior Business Analyst at HQ and into her current position as the Sales Senior Zone Supervisor. In her role, Sarah supports the operational side of the frontline sales organization and partners with HR and finance functions to forecast, lead, and achieve people and financial measures for Frito Lay's Lexington Zone which includes eleven district territories and 200+ employees. 
"I chose to pursue an MBA to gain a deeper understanding of various business functions to prepare me for executive leadership roles at my current company and beyond," says Sarah. "In my current position, my MBA has allowed me to handle real business issues with different approaches and consider the impacts to the business with a broader perspective. The MBA program has also expanded my professional network with colleagues in other industries that impact the decisions made in my role."
Dr. Zaki Hassan is the current Enterprise Director of Simulation, Professor of Anesthesiology and Surgery, Medical Director Comprehensive Simulation Center and Director of Liver Transplant Anesthesiology at UK Healthcare. He also ran a clinical practice with over 45 locations and over 600 cases per week from all over the state of Kentucky. Dr. Hassan trained at the Charing Cross and Westminster medical school at the University of London and is also a member of the University of Kentucky's College of Medicine Admission Committee. Dr. Hassan is also a recent graduate of the Professional MBA program at the Gatton College.
"As a physician, learning the language of business was important to me," says Dr. Hassan. "The world of healthcare is changing and having the business knowledge to face today's healthcare management challenges is critical."
Gatton's Professional MBA Open House event will provide the opportunity for community members to find out more about Gatton's Professional MBA, Professional MBA (For Leaders in Healthcare) and applicable Dual Degree programs. The Professional MBA program brings together a diverse network of working professionals from various work experiences, companies, and industries such as engineering, law, healthcare, agriculture, transportation, manufacturing, technology, banking/finance, government and military.