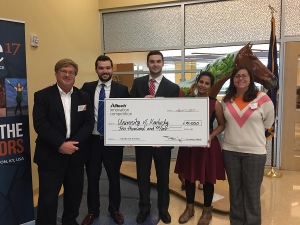 University of Kentucky's MBA students, Zachary Yonts and Fletcher Young, won the graduate first place prize of $10,000 at the recent 2017 Alltech Innovation Competition. The UK graduate team also included Venture Studio advisors, Mariam Gorjian and Warren O. Nash III of the Von Allmen Center for Entrepreneurship at the Gatton College of Business and Economics.
Yonts and Young took top prize with their venture, Stillage Solutions. By using leftover stillage from the brewing and distilling process to produce activated carbon, Stillage Solutions wants to develop a low-cost, high- quality and more environmentally friendly activated carbon product than what is being currently developed using coal, coconut shells and wood.
"When we were first introduced to Stillage Solutions' value proposition we knew it was a special idea," Yonts said. "Using the stillage waste from the bourbon industry as an input in activated carbons was a novel idea that we knew we could take and run with. Preparing presentations for people has provided us with valuable professional experience. We look forward to taking Stillage Solutions as far as we can take it."
"We have learned a lot about entrepreneurship and business in general while developing our pitch and business plan, and we never would've gotten off the ground with this business without the help of the Entrepreneurship Bootcamp program, operated by Marriam Gorjian and Warren Nash of the Von Allmen Center for Entrepreneurship," says Fletcher Young. 
Along with being full-time UK MBA students, Yonts and Young both participated in the Venture Studio program, which is a creative and collaborative space for entrepreneurial learning, growth, and innovation at the University of Kentucky's Gatton College of Business and Economics. Venture Studio provides opportunities and programming for students to assess and validate the feasibility of a business concept and learn how to create a business model. Yonts and Young will also be graduating this year from the One Year MBA program at the University of Kentucky.
The Alltech Innovation Competition started in 2013 in Kentucky and Ireland, and challenges undergraduate and graduate university teams to develop forward-thinking business plans on innovative ideas in animal nutrition, crop science, food, and brewing and distilling that will improve local economies. This annual competition celebrates entrepreneurship and the impact of cross-functional teamwork on business development.