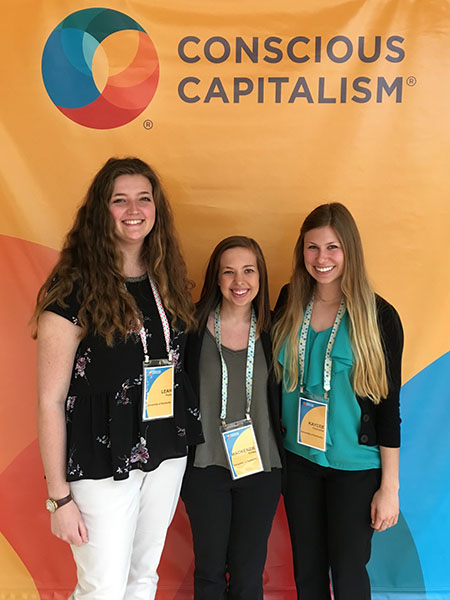 University of Kentucky Honors students and Gatton College of Business and Economics Social Enterprise Scholars Kaycee Champion, Leah Ports, and Mackenzie Kirtley recently were honored at the Conscious Capitalism Conference in Philadelphia, Pennsylvania. The students were selected as one of four finalist groups in the Conscious Capitalism 2017 Business Plan Competition, which boasted hundreds of submissions from students on three continents.
The other finalists included teams from Stanford University, the U.S. Air Force Academy and Drexel University.
The Conscious Capitalism organization is aimed at providing, "a way of thinking about capitalism and business that better reflects where we are in the human journey, the state of our world today, and the innate potential of business to make a positive impact on the world," according to its website. Members include Patagonia, KIND, and Whole Foods, among others.  
The UK scholars' business plan, entitled H2Grow, is a multi-faceted, eco-friendly hydroponic food-growing system that not only encourages the adoption of green agricultural processes by large scale farmers and independent gardeners alike, but also provides a source of organic produce to local restaurants and markets. The project was born out of their sophomore Social Enterprise Scholars course with Gatton's John Peloza, associate professor of marketing, who ultimately encouraged the students to submit their plan to this year's competition.
As finalists, the students were provided with airfare, hotel and conference access for all three days of the event, as well as a corporate mentor to help coach them for their final pitch competition.
"The Social Enterprise Scholars is a relatively new partnership with the Lewis Honors College, which makes these students' accomplishments that much more impressive," said Gatton Honors Pathways and Social Enterprise Scholars Director Chelsea Brislin. "The inaugural class of Social Enterprise Scholars has really embraced the mission of this program and are entrepreneurs at the cutting edge of business."
The first class of Social Enterprise Scholars, an Honors Pathway housed in the Gatton College, entered UK in the fall of 2015. The program is growing steadily.
As a member of the UK team of finalists, Champion said, "We are so appreciative of the all of the support we received from Gatton and the Lewis Honors College. It was a honor to represent Social Enterprise and UK at this competition. Even though we did not bring home the top prize, it was an incredible experience."
Champion also talked about the larger impact of being a part of Social Enterprise Scholars at UK. "Social Enterprise has really expanded my viewpoint on business," said Champion. "This program has taught me that business isn't always just about making money, but can be used as a way to reach those in need. Social entrepreneurship is an opportunity to put business ideas into action in a way that has a positive impact on real world issues. It allows individuals interested in business to do more than just build a business, but to strengthen a community and offer creative solutions to pressing social problems."