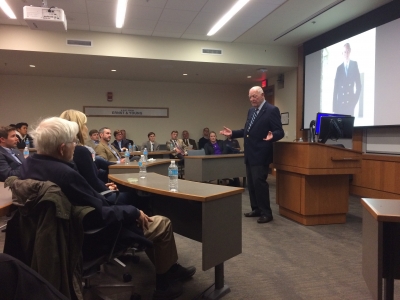 The University of Kentucky's Gatton College of Business and Economics hosted James E. "Ted" Bassett III, one of Kentucky's most respected and valued citizens. Mr. Bassett was a decorated Marine veteran who served in the Pacific during World War II, former head of the Kentucky State Police and also lead the Keeneland Association to become the world's largest Thoroughbred auction sales company and one of the premier racetracks in North America. During his talk, Mr. Bassett chronicled definitive periods in his life for the audience and his theme was centered on how to become an effective servant leader and inspiring a team through effort, respect, humility and sacrifice.
Born in Lexington, Kentucky, Mr. Bassett is most frequently linked with Keeneland's extraordinary history and success. Bassett's involvement with Keeneland began in 1968, after he served in the U.S. Marine Corps during World War II (where he was awarded the Purple Heart and the Presidential Unit Citation) and also was the Director of the Kentucky State Police during the tumultuous mid-1960s. Since 1968, Bassett has served as Keeneland's president, chairman of the board, and trustee. Arguably the most respected figure within the global racing industry, he was also president of the Breeders' Cup during its greatest period of growth. During his life, Bassett has been a close friend and professional associate with heads of state and government officials both domestically and afar – including Queen Elizabeth II, Ronald Reagan, J. Edgar Hoover, and the Maktoum family of Dubai. 
Laura Combs, current MBA student at the University of Kentucky said, "Mr. Bassett reminded me of the importance of team buy-in. Your team needs to see that you are invested in the project and you should care about their individual interests and concerns." Crisann Mccoy, another current MBA student at the University of Kentucky added "I was most struck by his comments on servant leadership: know your team, understand how and why they are motivated, genuinely care about them and help them achieve their goals." 
Further, Bassett is an Honorary Member of the Victoria Racing Club of Australia, the Hong Kong Race Horse Owners Association and the Association of Jockey Clubs of Latin America. He is a recipient of the Eclipse Award of Merit, the Lord Derby Award, the U.S. Marine Corps Semper Fidelis Award and Department of the Navy Superior Public Service Award. He holds honorary degrees from the University of Kentucky, Transylvania and Eastern Kentucky Universities.