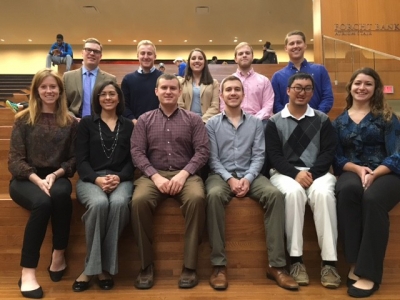 The University of Kentucky's MBA Student Association (MBASA) is a group of current UK MBA student leaders and ambassadors with the mission of enriching the quality of student life and building relationships among fellow students, faculty, administration, alumni, prospective students and the business community. The MBASA are selected by their peers to help lead the class in areas of professional development, social events, community service and student engagement. This year, the MBASA has already participated in several philanthropic events and raised money and supplies for great causes. To date, the MBASA has raised approximately $1,500 with a goal of $7,500 by February of 2018. 
In early August, the MBASA and some of the One Year MBA Class did a school supplies drive partnering with William Wells Brown Elementary school and received enough donations from the class and faculty to fill six backpacks, which resulted in about 125 individual items donated. After the string of devastating hurricanes recently, the MBASA sold Gatton pullovers with a portion of the proceeds donated to the UK Emergency Assistance and Relief Fund to help UK students and families that were affected by natural disasters. The MBA program also has a DanceBlue team this year and will be participating in the Dance Marathon in the Spring. DanceBlue is a yearlong fundraiser with proceeds going to the Golden Matrix Fund, which supports the kids of the DanceBlue Kentucky Children's Hospital Pediatric Hematology/Oncology Clinic. The MBASA also plans to give back time and resources to organizations around the holidays by participating in philanthropies like the Salvation Army Angel Tree and the Salvation Army Kettle Bell Ringing. In the Spring, the MBASA is planning to participate in a Habitat for Humanity build. Stay updated with all current MBASA efforts in our online newsletter. 
Donate or Get Involved
To learn more about how you can get involved or donate please reach out to Rachel Dudney, MBASA Philanthropy Chair at rcdu224@uky.edu. To make donations directly to the MBA DanceBlue Team, please click here to donate. 
---
The MBASA officers and ambassadors include (picture left to right): Glen Heck, Will Bishop, Rachel Dudney, Brandon Clarke, Justin Morris, Darby Brown (MBASA President), Candace Bramley-Hardesty, Cory Qualls, Tyler Schaeffer, Jackson McKee, Alexis Spahn and Jonathan Gettlefinger (not featured).