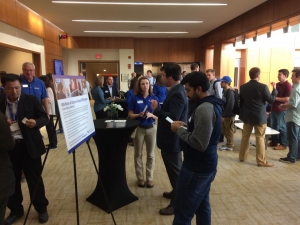 The University of Kentucky's MBA program at the Gatton College of Business and Economics recently hosted a One Year MBA Open House event to prospective candidates in their new $65 million Gatton College building. A big audience of students with a variety of majors and backgrounds, all learned more about the accelerated, full-time One Year MBA program along with the Project Connect internship and the different dual degree options. In addition, prospective candidates had the opportunity to meet and greet with current MBA students, faculty, staff and alumni of the UK MBA program.
Some of the current UK MBA students that spoke about their personal experiences in the program were Emily Bunch, Rachel Dudney and Justin Morris (who's currently the MBA Student Association Vice President). They each provided a unique perspective on their motivations to pursue an MBA at the University of Kentucky, their career goals and even offered some general advice.
The Gatton College also invited back a group of successful UK MBA alumni to speak about the value of an MBA and how it's helped them grow professionally in their careers. The UK MBA alumni panel included:
Please review the Admissions Requirements, MBA Preparatory Courses and FAQ's before applying. For additional questions, please contact Christopher Carney, Director of MBA Recruitment.