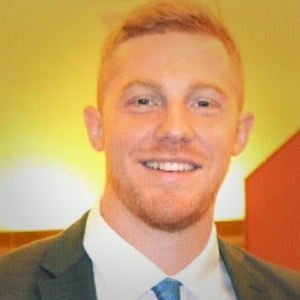 Brett Evans, recent graduate of the University of Kentucky's Professional MBA program at the Gatton College of Business and Economics, joins 84.51° in Cincinnati as a Strategy & Activation Consultant. 84.51° brings together customer data, predictive analytics and marketing strategy to drive sales growth and customer loyalty for Kroger and more than 300 consumer-packaged-goods companies in the U.S.
In his new role, Brett will partner with clients to develop business strategies and create plans that drive customers to shop, ultimately improving sales, profits and shareholder value. At 84.51°, consultants bring the voice of the customer into client discussions to solve problems, focusing on the use of insights from customer purchase data to develop actionable recommendations, plans and tactics.
About the opportunity at 84.51°, Brett says, "I wanted to use the analytical and critical thinking skills I developed over the past few years in the UK MBA program to solve problems that were not exclusively financial. I wanted to find an opportunity where I could deliver solutions that were meaningful, and where the results of my work were tangible and measurable. Considering my previous work experience as a CPA, much of this position will initially be foreign to me. However, the environment at 84.51° is one where people are encouraged to step out of their comfort zone and solve problems in new and innovative ways."
While pursuing his Professional MBA, Brett worked as an Account Principal at the University of Kentucky which is also where he received his undergraduate degree in Accounting. The Professional MBA program at the Gatton College of Business and Economics is a part-time MBA for full-time working professionals and executives from various work experiences, companies and industries. Each year, the program's cohort brings in a myriad of years of professional experiences from many industries including engineering, law, healthcare, agriculture, transportation, manufacturing, technology, banking/finance and government. Each of these professionals bring their daily work responsibilities into the classroom and then can immediately apply what they learn in the workplace the following day. 
Regarding his motivators in pursuing an MBA, Brett says, "Throughout my time as an undergraduate and at the beginning of my career I experienced one facet of business which was accounting. It wasn't until I started working closely with colleagues in other departments that I truly recognized how cohesive all these units need to be in order to operate efficiently. I wanted to gain a better understanding of all facets of business so that I could best serve those I work with. I also recognized an MBA as a great opportunity to develop practical leadership and management skills as well as learn about different industries and explore diverse opportunities." 
UK MBA students get to partner with the Graham Office of Career Management team at the Gatton College of Business and Economics, who are dedicated to assisting students in their career development process and employment success by working closely with employers who seek Gatton's talent.
"The Graham Office played an integral role in this process from start to finish," says Brett. "I attended an 84.51° information session hosted by the Graham Office. There I was able to meet current employees and learn more about the clients they serve and how they translate data into valuable insights. The Graham Office also provided me with resume feedback and interview tips. Upon receiving various job offers, the Graham Office was very helpful in evaluating how each opportunity lined up with what I valued in an employer and ultimately helped me make the right decision with 84.51°."
Brett adds, "One of the things that really drew me to the UK MBA was all of the outside opportunities they offer their students. We had the opportunity to attend guest lectures, social outings, workshops, seminars, competitions and recruiting events. We were given the opportunity to work with everyone from startups to F500 companies. What you learn in the classroom is certainly important, but a program's ability to help you grow interpersonal skills, develop your understanding of business and expand your network is what really defines value." 
The University of Kentucky's Professional MBA program is currently accepting applications for the Fall 2019 cohort, which starts in late August of this year. For more information, please visit the University of Kentucky MBA or contact Christopher Carney, Director of MBA Recruitment at the Gatton College of Business and Economics.