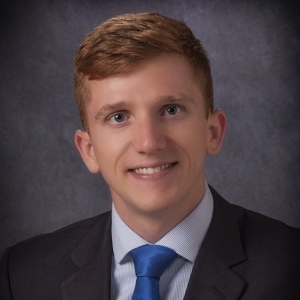 Dakota "Cody" Lester, recent graduate of the Engineering/MBA Dual Degree program at the University of Kentucky's College of Engineering and the Gatton College of Business and Economics, has been flying high in his new career as a Business Analyst at Boeing. Boeing is the world's largest aerospace company and leading manufacturer of commercial jetliners, defense, space and security systems and service provider of aftermarket support. With corporate offices in Chicago, Boeing employs more than 140,000 people across the United States and in more than 65 countries.
"I always wanted to work for a large engineering company," says Cody. " After completing my engineering degree at UK, I was motivated to get my MBA because I wanted to take my technical engineering skills and now add a strong business acumen. I was confident that this combination of skills would help me pursue my ultimate career goals."
Cody is participating in the Business Career Foundation Program with the opportunity to rotate through many different business functions across Boeing. Boeing's business rotation programs, young professionals, like Cody, get to work alongside industry experts to solve challenges in a variety of business areas. Cody is currently working on a exciting new commercial satellite development program that will launch in 2021.
"I love that I get to see so much of the company in such a short amount of time," says Cody. "By the end of the program, I will have seen six different functions across Boeing and at least two sites. I believe it would take much longer to find my ideal position without an opportunity like this one at Boeing."
While pursuing his One Year MBA, Cody participated with in the Project Connect program which is a built-in internship experience unique to the One Year MBA at the University of Kentucky's Gatton College. Student teams are paired with companies to work on projects of importance to their corporation or organization. The projects focus on core business processes such as data analysis, marketing, research, growth strategy, supply chain management, logistics and operations.
"The MBA program paired our group with Kentucky-based energy supplier LG&E and KU dealing with auditing a supplier diversity initiative program along with a supply chain topic," says Cody. "It involved on-site interviews, primary research and extensive data analysis to determine the most effective program improvements to be implemented. Project Connected provided me with the knowledge and skills to learn sound business competencies across many different functions." 
In five years, Cody's career goals are to land his first permanent location with Boeing and eventually leading a multifunctional team, possibly in program management. Cody believes that PM is the future at Boeing and the bridge between technical and business functions. Cody ertainly sees his MBA paying dividends for him in the future. 
Cody Lester graduated from the University of Kentucky's College of Engineering with his degree in Mechanical Engineering along with his MBA at the Gatton College of Business and Economics. Since 2013, Cody has been a participant and executive board member of the Alpha Zeta Chapter of Alpha Phi Omega, which is a national co-ed community service fraternity, including volunteer working in poverty relief, hunger, homelessness awareness and relief, literacy promotion and environmental consciousness.