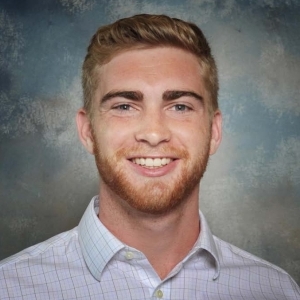 Jack Oliver, recent graduate of the Engineering/MBA Dual Degree program at the University of Kentucky's College of Engineering and the Gatton College of Business and Economics, has secured his dream opportunity with Point B, at their Chicago office, as a Management Consulting Analyst. Point B, Inc. helps organizations form, execute, and thrive through management consulting, digital services, venture investment and advisory, and real estate development.
"I'm excited about this role at Point B for so many reasons," says Jack. " First, I get to work with the Chicago practice leadership team, which is their 2nd largest office, to understand sales performance, provide forecasting and give support by connecting consultants with the right tools and information. Also, the company is fast and high-performing; the people are brilliant and motivated. At Point B, I feel I can choose how to pursue my interests, build my skills and gain exposure to new services and industries."
Point B currently employs over 800 employees and has offices in Seattle, Portland, Bay Area, Southern California, Phoenix, Denver, Chicago, Dallas, Austin and Boston. They are also 100% employee-owned and was named the #1 Best Medium Best Workplace in the United States by Fortune magazine and is regularly honored as an exceptional place to work.
Jack says, "Getting both my engineering and MBA degrees from the University of Kentucky has helped me be a better analyst and gave me the perspective to think more strategically in my new role at Point B. I'm already noticing my ability to quickly learn new things about business tactics and strategies that I've had little exposure to before."
While pursuing his One Year MBA, Jack participated in the Project Connect program which is a built-in internship experience unique to the One Year MBA at the University of Kentucky's Gatton College. Student teams are paired with companies to work on projects of importance to their corporation or organization. Jack's Project Connect sponsor was Tempur-Sealy International, which is the world's largest bedding provider and they're headquartered in Lexington, Kentucky. 
"Everyone in the MBA program put a tremendous investment into my professional and personal growth," says Jack. "I developed mentoring and friendly relationships with many faculty and students, which was vital to how I pivoted my career and learned about ways to pursue my passions." 
Jack graduated from the University of Kentucky's College of Engineering with his degree in Chemical Engineering along with his MBA at the Gatton College of Business and Economics. While at UK, Jack was involved with DanceBlue as the Chairman of Operations and was also the Vice President of Alpha Tau Omega, which is the largest social organization on UK's campus with a focus on philanthropic involvement and enhancing the leadership skills of their members.