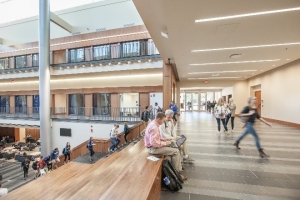 The University of Kentucky's MBA program at the Gatton College of Business and Economics has new elective course options in both the One Year MBA and Professional MBA programs which gives students more customization, flexibility and exposure in their coursework beyond the core curriculum. The following electives will be available to the current MBA students:
Strategic Thinking & Analysis
Marketing Research
Supply Chain Operations
Entrepreneurship & Business Start-Ups
Corporate Investment & Financing
Negotiation & Conflict Resolution
Personnel & Industrial Relations
Advanced Analytics in Decision Making
Design Thinking (Study Abroad course in Grenoble, France)
"We believe these elective courses will give our students more selection and options to pursue the coursework that's meaningful to them while enrolled in the UK MBA," said Harvie Wilkinson, Director of the Gatton MBA programs. "In addition, this allows the Gatton College to showcase even further the expertise of our faculty and the many different areas of study. Overall, we want this to be a personalized experience and the elective courses are just one of many steps that we are taking to ensure a high quality, versatile education for our students."
Please visit gatton.uky.edu/mba for more information or contact Christopher Carney, Director of MBA Recruitment at christopher.carney@uky.edu