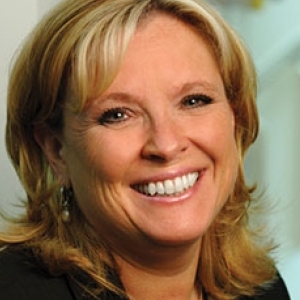 University of Kentucky MBA alumna, Dr. Colleen Swartz, who is the current Chief Nurse Executive and Chief Administrative Officer at UK HealthCare, was recently inducted in the University of Kentucky's College of Nursing Hall of Fame for her extraordinary contribution to the nursing profession. Established in 2006, the College selects five alumni every five years. Dr. Swartz is one of 15 to be inducted out of nearly 7,000 College of Nursing alumni.
As Chief Nurse Executive and Chief Administrative Officer, Dr. Swartz is dedicated to addressing the needs of nurses and their role in the health care profession, as well as overseeing nursing and all the integrated operations of UK HealthCare's hospitals. She provides leadership in clinical service areas, elevates nursing practice standards, and implements evidence-based programs and protocols to enhance the work environment and improve patient outcomes. Dr. Swartz credits her undergraduate and graduate school experiences at the University of Kentucky as instrumental in shaping her career, not just as a nurse but as an administrator and a leader. 
"Obtaining my MBA was certainly a tremendous asset on my journey toward executive leadership. As a clinical leader, often the business applications and skill set are deemphasized in graduate training. I found myself more frequently in positions where I was being asked to translate clinical decisions to business consequences, or business decisions into clinical consequences. The degree, experience, dialogue and expert instruction have had a huge return and allowed me to be a more impactful leader." says Dr. Swartz. 
Dr. Colleen Swartz became chief nurse executive at UK HealthCare in December 2008. Her prior experience includes serving as chief nursing officer at a regional community hospital, as director of emergency and trauma services flight nursing and as director of the Capacity Command Center for UK HealthCare. Swartz holds a DNP degree, master's degree in nursing as a clinical nurse specialist in trauma/critical care and an MBA from the University of Kentucky's Gatton College of Business and Economics. She has also completed the Johnson & Johnson Wharton Fellows Program in management for nurse executives.