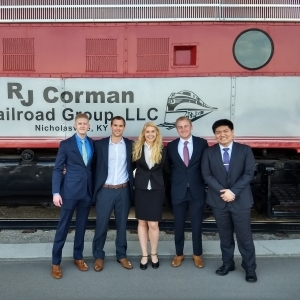 Graduation marks the end of another semester of Project Connect, the University of Kentucky's MBA consulting practicum that acts as a built-in internship for students enrolled in the One Year MBA program. This past semester, student teams applied Lean and Six Sigma tools to a diverse range of projects including (but not limited to) manufacturing, accounting, human capital, and safety processes. Across the range of projects, team's identified meaningful insights and developed improvements that will deliver value for their partner companies, some estimated to account for more than $100,000 in productivity savings.
"It's extremely rewarding to see our MBA candidates mature throughout the year in their critical thinking, teaming, and communication skills and excel with their Project Connect projects," said Karl Gustafson, Project Connect faculty advisor. Gustafson adds, "It's even more rewarding for me, and certainly for our MBA candidates, when the project sponsors from our company partners provide positive feedback to their team's final deliverables. This semester, as in past semesters, the common refrain from the project sponsors was this exceeded our expectations and some even advised that the final deliverable was as good as what they would expect from an external consultancy."
Project Connect is a unqiue experience that's only offered in the One Year MBA program at the University of Kentucky's Gatton College of Business and Economics. We would like to take this opportunity to recognize our 2018 Project Connect company partners, which included: 
For more information on Project Connect or ff your company/organization would like to be considered as a future Project Connect sponsor, then please contact Karl Gustafson, Lecturer and Project Connect Leader at the University of Kentucky's Gatton College of Business and Economics.