Honesty, Integrity, and Professionalism in Business Conference
Friday, October 28, 2016
10:00 am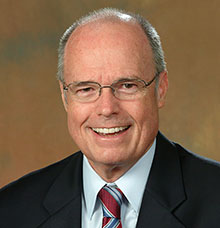 Come hear Citigroup whistleblower Richard Bowen share his story about his efforts to warn Citigroup about the possibility of a financial crisis due to faulty mortgage loans before the market officially crashed in 2008.
10:00 – Registration and light refreshments
10:30 – 12:00 Richard Bowen presentation (Kincaid Auditorium)
12:00 – 12:30 Lunch
12:45 – 2:00 Breakout Sessions
Choose from five Breakout Sessions:

Alfonzo D. Alexander, President of the National Association of State Boards of Accountancy's Center for the Public Trust, on Ethics
Darrell Ratliff, Special Agent (ret.), U.S. Department of the Treasury, on Treasury Special Investigations
Gary Smith, President & CEO of Kentucky Trailer, on Servant Leadership
Kourtney Nett, CPA, Director, Risk Advisory Services & Brad Smith, CPA, Director, Assurance Services, Mountjoy Chilton Medley, on Fraud
Paul Fiorelli, J.D., MBA, Co-Director, Cintas Institute for Business Ethics at Xavier University, on "Why Good Accountants Do Bad Things"
No pre-registration required.

Thank you to our sponsors: Blue & Co., Crowe Horwath, Dean Dorton Allen Ford, EY, KyCPA, Mountjoy Chilton Medley LLP, and UK MBA.
When:

Friday, October 28, 2016
10:00 am – 2:00 pm

Where: