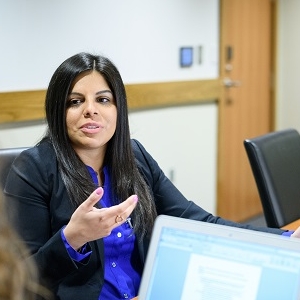 University of Kentucky MBA program at the Gatton College of Business and Economics is pleased to announce its first concentration in the program called Entrepreneurship and New Venture Creation, which will launch in the Fall of 2019. With the increased demand of MBA candidates wanting to expand their entrepreneurial skills, this new concentration will deliver on the following core objectives:
To understand business opportunity identification, concept development and validation
Practice hands-on develop of a business concept, a business plan and perform a business pitch in a regional new venture competition
Research in-depth financial principles to both familiarize and discover ways to fund, scale and manage a new venture/small business, including managing intellectual property
Learn how and when to act, learn, and lead in the ever-changing, global business landscape
Apply classroom knowledge and theory to real-world business problems in leading organizations of all types and sizes
"We are very excited to launch our very first MBA concentration in Entrepreneurship and New Venture Creation," says Harvie Wilkinson, University of Kentucky MBA Program Director. "As the flagship university in the state, we want to be the leaders in providing our MBA talent with the necessary skills and resources to expand their entrepreneurial capabilities in Kentucky and beyond."
There will be four courses that will comprise this concentration which are Entrepreneurship & New Venture Creation I, New Venture Finance, Intellectual Property & Commercialization and Entrepreneurship and New Venture Creation II (Capstone). Candidates will have the option of taking all the entrepreneurship electives to complete the full concentration or they can take any of the courses individually as an elective in the UK MBA program. The first two courses offered this Fall of 2019 will be the Entrepreneurship & New Venture Creation I and New Venture Finance.
Successful entrepreneur and Gatton lecturer, Adam Evans, will be teaching the Entrepreneurship and New Venture Creation course which is a graduate-level overview of entrepreneurship and new venture creation. The class will examine key issues associated with the discovery and development of entrepreneurial opportunities. Community experts will present their stories and emphasize challenges and strategies to drive their companies through the entrepreneurial process. Classes will work very closely with a business sponsor and faculty to develop and pitch a business model.
Wall Street veteran, entrepreneur and Gatton Lecturer, Shane Hadden, will be teaching the New Venture Finance course which focuses on the fundraising process for high-growth technology start-ups. Students will learn about the market participants, vocabulary, processes and risks that are unique to the start-up funding ecosystem. Substantive discussions of term sheets, valuation, cap tables, investor universe, modeling and the fundraising process will be complemented with case studies and guest lectures by local investors and CEOs.
For more information about the Entrepreneurship and New Venture Creation or the UK MBA program, please contact Christopher T. Carney, Director of MBA Recruitment at the University of Kentucky's Gatton College of Business and Economics.